STERIWIPES: Velocity Chemicals and INTECH Jointly Launch New Virucidal Wipes That Protect Against COVID-19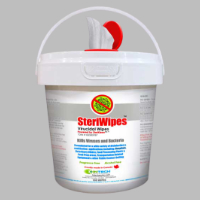 Surrey, BC – INTECH in cooperation with Velocity Chemicals Ltd. has announced the launch of SteriWipes Virucidal Wipes, a new easy-to-apply surface disinfecting and sanitizing cleaning product that is Health Canada-approved as likely effective against the spread of novel coronavirus.
SteriWipes Virucidal Wipes enjoy a high efficacy rate against multiple pathogens, with its fast-acting formula highly effective as a Staphylocidal, Pseudomonacidal, Bactericidal, Salmonellacidal and Fungicidal product. Most critical of all, however, is that these wipes are officially recognized as capable of killing SARS-CoV-2, the virus that causes COVID-19. SteriWipes Virucidal Wipes are designed for use as part of a daily maintenance program in a variety of disinfection and sanitization applications, from hospitals and veterinary clinics to food processing plants and food prep areas. They can also be used to disinfect transportation-related equipment and other public contact settings.
Expected Wipes Shortage
The arrival of SteriWipes; on the market comes as fears of a disinfectant wipes shortage have been growing.
Recent media reports
have suggested some of the world's largest manufacturers may not be able to meet demand as the initial rush for disinfecting products that came at the start of the COVID-19 pandemic drained existing stocks quickly. With
novel coronavirus still not eradicated
, the need to maintain enhanced disinfecting levels in workplaces, public areas and homes remain acute. Equally, maintaining the necessary supplies of disinfecting products that have been recognized as effective against COVID-19 is also as urgent as ever.
SteriWipes
are available in single hard-plastic containers of 160 wipes and 18-container packs (18 x 160 wipes), allowing for adequate short and long-term supplies to be stored easily.
SteriWipes; Efficacy
When protecting against COVID-19, speed and efficacy are essential. SteriWipes deliver both when cleaning, disinfecting, sanitizing, and deodorizing hard, non-porous surfaces. Users simply wipe down the required area with a disinfecting sheet, repeating the action where there are stubborn stains before letting the surface dry. Each sheet is made of medical-grade reinforced fabric to ensure reliability. Against SARS-CoV-2, surfaces must stay visibly wet for at least 1 minute before drying, while disinfecting surfaces requires a contact period of 10 minutes and sanitizing just 30 seconds. Although the formula is tough on dirt, grime and soap scum, very dirty surfaces should be cleaned first to ensure the best possible results. Bare skin or food contact surfaces must be rinsed down and wiped with a wet cloth. Fragrance and alcohol-free, SteriWipes also deodorize by killing the hidden microorganisms that can create odours.
---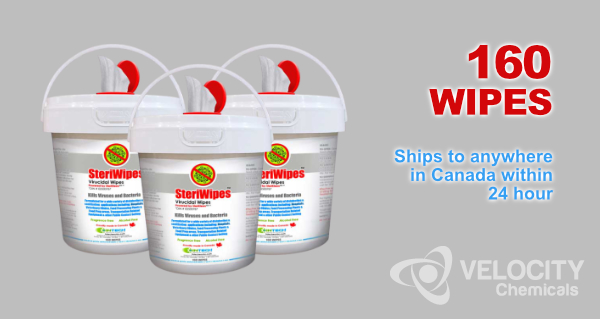 ---
Approved Formulation
Only trusted cleaning products should be used when protecting surfaces against pathogens, especially those as dangerous as the coronavirus. SteriWipes; Virucidal Wipes are approved by Health Canada (
DIN# 02500787
), and meet both AOAC testing standards for hospital disinfectants and sanitizer test standards for non-food contact sanitizers.
Environmentally and Economically Efficient Choice
Operational costs are always a concern, regardless of business size and sector. But with cleaning regimens enhanced dramatically, such key areas as healthcare, hospitality, entertainment, and transport sectors are under pressure to find cost-efficient solutions. Velocity Chemicals partners with customers to formulate custom-designed products to meet specific needs, helping to maximize efficacy rates. And with 160 individual wipes in each container, the investment in SteriWipes™ goes further than in other disinfectant wipes, making it more economically efficient. What is more, because the sheets are wholly biodegradable, they are also the environmentally friendly product choice.
Available Now
They are available to order directly from Velocity Chemicals, with shipping to anywhere in Canada within 24 hours. Due to shipping restrictions, SteriWipes Virucidal Wipes are not currently available outside Canada. For more information or to place an order, call one of our specialists
Toll-Free on 1-888-963-9499.
Tags: SteriWipes, Virucidal Wipes