HEAVY EQUIPMENT, TRUCK AND SHOVEL CLEANING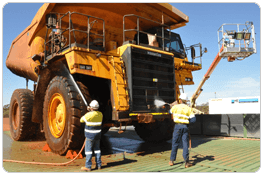 The size of our chemical cleaning product range ensures Mining & Oilsands clients get the right cleaner for any job. Our highly successful BLACK HAWK, along with BIO-NATURAL PLUS, CITRIO, COMBAT and the multi-purpose, heavy-duty, cleaner and degreaser FASTQLEEN, guarantees the highest standards of clean in the toughest machinery. And, whatever your specific environmental needs we have the right cleaner for you.
Our products can be found in varied companies, from small machine shops to large plants. Best of all, Velocity Chemicals costs much less than our competitors and provides a consistent product with on-time delivery.
BIO-NATURAL PLUS
BLACK HAWK
CITRIO
COMBAT
FASTQLEEN
WHYNOT
WONDERSOL