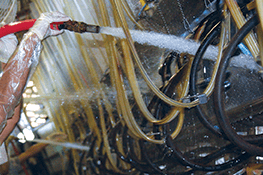 Between caring for your milk herd and ensuring the finest quality and wholesome milk is produced, dairy farmers have a lot to deal with. It's something that we at Velocity Chemicals are keenly aware of, and why we are committed to providing products that can handle whatever cleaning challenges a dairy farm throws up.
Velocity Chemicals offers a selection of highly effective high-performance degreasing and cleaning products that can enhance standards of sanitization greatly, while also lowering cleaning costs and raising efficiency. If you do not see a product you are looking for, please contact us today.
PHALANX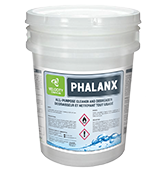 Product Summary
A water-based general purpose cleaner and degreaser, PHALANX is CFIA approved making it ideal for the cleaning of dairy and food processing areas, milking parlour and barn walls and floors, farm equipment, sidewalks and walkways.
VELOSAN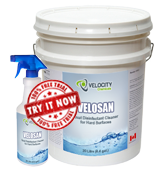 Product Summary
VELOSAN is a Quaternary ammonium compound used in food processing and industrial areas to disinfect and clean hard surfaces. It is an effective one step sanitizer for non food contact surfaces and food contact surfaces where a rinse is not required.