RAILROADS & RAPID TRANSIT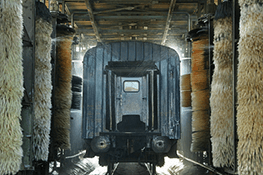 Rail transport, whether it stretches across a nation or across a city, requires constant maintenance and cleaning. Between everyday contaminants like soil, rainwater, oil and grease, and the carbon steel rust that can build up on the stainless steel bulkheads, rail cars and chassis require specialised chemical cleaning.
At Velocity Chemicals, we have a wide selection of high-performance cleaning products to deal with both the exterior and interior cleaning requirements of the rail transport industry. And if necessary, we have the expertise at hand to specially formulate a product according to your specific needs.
ADVANTAGE
ALUMAGLO
AVENGER
FLUORIX
KIXX
RELEASE