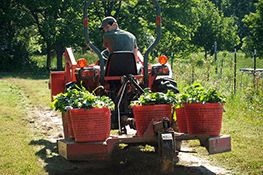 In all agricultural sectors, machinery plays an essential part of establishing farm efficiency. But when it comes to producing fruit and vegetables, thoroughly cleaning and degreasing vital equipment and vehicles while not compromising required sanitation standards are equally important.
At Velocity Chemicals, we offer a selection of high-performance, cost-effective cleaning products specifically designed to keep all of your machinery, from tractors and tillage equipment to pickers and sprayers, thoroughly clean while also ensuring food safety. If you do not see a product you are looking for, please contact us today.
PHALANX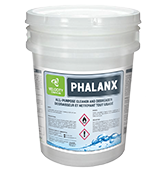 Product Summary
A water-based general purpose cleaner and degreaser, PHALANX is CFIA approved making it ideal for the cleaning of dairy and food processing areas, milking parlour and barn walls and floors, farm equipment, sidewalks and walkways.
VELOSAN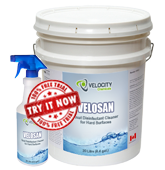 Product Summary
VELOSAN is a Quaternary ammonium compound used in food processing and industrial areas to disinfect and clean hard surfaces. It is an effective one step sanitizer for non food contact surfaces and food contact surfaces where a rinse is not required.