Iron and Steel Phosphatizer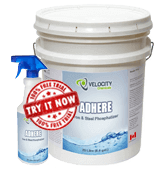 ADHERE is a specially-formulated pre-paint treatment primarily developed for economical steam or high-pressure phosphating of large ferrous and other metal components. The conversion coating provides corrosion resistance (including the prevention of flash rust) before painting and improves the adhesion of subsequently applied finishes, such as paint or powder coatings.
Specification
Directions for Use

Prepare surface first by removing dirt, oil and grease with PREP-RITE cleaner. Apply ADHERE-LV at 1% to 3% at 160°F to 180°F (71-82°C), preferably with a hot water pressure washer. Then, rinse with water. Allow to dry completely before powder coating surface.

Precautions

Please refer to the Material Safety Data Sheet for disposal and handling procedures.

Physical Properties

Appearance: clear, slightly yellow liquid pH (100%): 2.5-4.0 / Specific Gravity: 1.24 / Odour: mild

Features

Conversion Coating
Contains Biodegradable Ingredients
Not Regulated Under TDG and WHMIS

Benefits

Prevents Flash Rusting
Improves Coating Adhesion
Minimal Environmental Impact
Lowers Disposal Cost and Shipping Cost
Why Should You Count on Us?
Because we already have a reputation that is second to none, with a proven record our clients can bank on. So, why not buy products directly from the manufacturer other companies trust? Here are just a few.
…and hundreds more.
---
We've been doing this for a long time, and naturally, people talk
Velocity Chemicals is incredibly reliable and a great team player to work with. They are one of our core, premium suppliers.
---