Aluminum Brightener, Etchant and Cleaner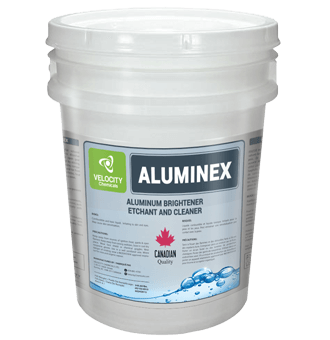 Specially formulated for the food processing industry, ALUMINEX is an aluminium brightener, etchant and cleaner that works fast on removing rust, oxides, lime and silicate soils, leaving surfaces with a clean, satin finish. Easy to apply and fast-working, the CFIA- approved formula is perfect for maintaining aluminium kitchen equipment, tables, tops and walls in any of food processing environment, helping to lower cleaning costs and uphold the highest food safety standards.
What Does This Mean for You?
USAGE

Use highly concentrated, non-fuming, acid detegent ALUMINEX to keep your food processing surfaces, equipments and utensils looking like new. The CFI-Aapproved formula cleans and restores oxidized aluminum quickly and easily.

Sell Sheet

If you'd like to learn more about ALUMINEX, you can download a copy of our latest sell sheet.

BETTER CLEANER

Effective and effecicient, the quick penetration and etching action ALUMINEX reduces the need to rub, buff or agitate the surface being brightened.

SMARTER CLEANER

Not just an effective surface cleaner, ALUMINEX also etches and polishes aluminum, bringing out the natural luster of the metal every time.

FASTER CLEANER

Easy-to-apply ALUMINEX cleans and brightens in one operation. It takes just 10 minutes contact time to lift grease, oils, stains and stubborn oxides.

NOW AVAILABLE

ALUMINEX is now available directly from Velocity Chemicals, with orders shipped to anywhere in BC within 24 hours. To order, call one of our specialists today at toll-free 1-888-963-9499. Available Quantities:
20 Litre pails
200 Litre drums

CUSTOM FORMULATION

Velocity Chemicals will partner with you to ensure you get the right product to suit your needs – precisely, safely and economically.
Why Should You Count on Us?
Because we already have a reputation that is second to none, with a proven record our clients can bank on. So, why not buy products directly from the manufacturer other companies trust? Here are just a few.
…and hundreds more.
---
We've been doing this for a long time, and naturally, people talk
Velocity Chemicals is incredibly reliable and a great team player to work with. They are one of our core, premium suppliers.
---