Multi-Purpose Low-High Temp Demulsifier for Bunker/Waste Oil Treatment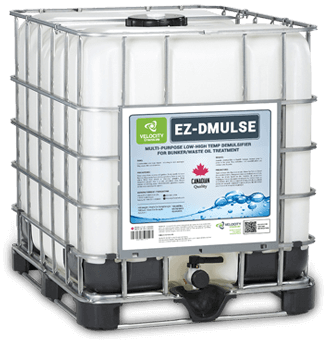 Recycle oil waste more cost-efficiently with EZ-DMULSE,
a highly effective multi-purpose low-high temperature
demulsifier that removes water from slop oil, lube oil, crankcase
oil and bunker oil waste quickly and easily. Trusted by industry leaders, it reclaims more oil for recycling while adhering to industry regulations.
What Does This Mean for You?
USAGE

Perfect for bunker and waste oil treatment, EZ-DMULSE is specially formulated to work at lower temperatures, successfully separating water from lube, crankcase and slop oil so that they can be re-used as recycled bunker fuel oil. Resultant water portion should be treated and disposed of in accordance with local regulations.

Sell Sheet

If you'd like to learn more about EZ-DMULSE, you can download a copy of our latest sell sheet.

FASTER CLEANER

EZ-DMULSE's carefully engineered formula separates water from waste bunker and lube oil in less than 24-hours, cutting maintenance time and costs.

SMARTER CLEANER

Because EZ-DMULSE removes more water at lower temperatures, the recycled oil is a higher quality and is ready to use immediately.

SAFER CLEANER

EZ-DMULSE's demulsifying process satisfies the strictest industry regulations – even when used at lower temperatures.

NOW AVAILABLE

EZ-DMULSE is now available directly from Velocity Chemicals, with orders shipped to anywhere in BC within 24 hours. To order, call one of our specialists today at toll-free 1-888-963-9499. Available Quantities:
20 Litre pails
200 Litre drums
1000 Litre tote tanks

CUSTOM FORMULATION

Velocity Chemicals will partner with you to ensure you get the right product to suit your needs – precisely, safely and economically.
Why Should You Count on Us?
Because we already have a reputation that is second to none, with a proven record our clients can bank on. So, why not buy products directly from the manufacturer other companies trust? Here are just a few.
…and hundreds more.
---