All-Purpose Cleaner and Degreaser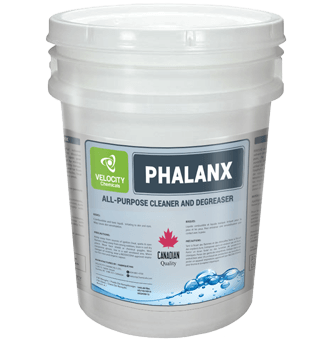 A water-based general purpose cleaner and degreaser, PHALANX is CFIA approved making it ideal for the cleaning of dairy and food processing areas, milking parlour and barn walls and floors, farm equipment, sidewalks and walkways. Its innovative formula provides accelerated action in penetrating and dissolving grease and oil, ensuring the highest quality clean.
What Does This Mean for You?
PHALANX BENEFITS

Mixed with water, PHALANX can quickly remove common soils from milking parlour equipment, walls and floors, including solidified fats, denatured proteins, deposits of milk lactose and hardened minerals. The result is to attain a higher standard of hygiene that not only protects milking systems but promotes the production of high quality milk.

Brochure

If you'd like to learn more about PHALANX, you can download a copy of our latest brochure.

PHALANX ADVANTAGES

Formulated to ensure easy use as well as effective results, PHALANX's special accelerated action provides a more thorough clean than its competitors wherever it is used. Tests show 5 benefits:

Achieves and maintains higher level of cleanliness in milking systems.
Contributes to the production of safer and higher quality milk.
Cleans milking parlour walls and floors, barns, walkways, tractors and other types of farm equipment thoroughly.
Formulated to remove grease, milkstone, oil, and other bacteria-laden soils quickly & efficiently.
CFIA-approved, making it ideal for use in all food processing areas.

NOW AVAILABLE

PHALANX is now available directly from Velocity Chemicals, with orders shipped to anywhere in BC within 24 hours. To order, call one of our specialists today at toll-free 1-888-963-9499. Available Quantities:
20 Litre pails
200 Litre drums

CUSTOM FORMULATION

Velocity Chemicals will partner with you to ensure you get the right product to suit your needs – precisely, safely and economically.
Why Should You Count on Us?
Because we already have a reputation that is second to none, with a proven record our clients can bank on. So, why not buy products directly from the manufacturer other companies trust? Here are just a few.
…and hundreds more.
---
We've been doing this for a long time, and naturally, people talk
Velocity Chemicals is incredibly reliable and a great team player to work with. They are one of our core, premium suppliers.
---