Heavy Duty Metal Surface Preparation Cleaner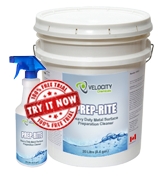 PREP-RITE is a heavy duty, high foaming caustic cleaner
for the removal of oils, greases and light scale from metals
prior to phosphate coating or painting. It is used primarily
manufacturing facilities as a first stage alkaline cleaner
to in pre-condition metals for phosphate coating
and painting.
Specification
Directions for Use

Use at 3 to 10% concentration

Precautions

Please refer to the Material Safety Data Sheet for disposal and handling procedures.

Physical Properties

Appearance: clear liquid / pH(100%): 13.0-14.0  Specific Gravity: 1.27 / Odour: mild

Features

Good hard water tolerance
Contains biodegradable ingredients
Effective penetrants and dispersants
High foaming
Good rinsing
Low odour

Benefits

Minimal scale build up
Leaves a clean, film free surface
Minimal Environmental impact
Effectively removes inorganic, greasy and oily soils
Improved air quality
Why Should You Count on Us?
Because we already have a reputation that is second to none, with a proven record our clients can bank on. So, why not buy products directly from the manufacturer other companies trust? Here are just a few.
…and hundreds more.
---
We've been doing this for a long time, and naturally, people talk
Velocity Chemicals is incredibly reliable and a great team player to work with. They are one of our core, premium suppliers.
---