Quaternary Disinfectant Cleaner for Hard Surfaces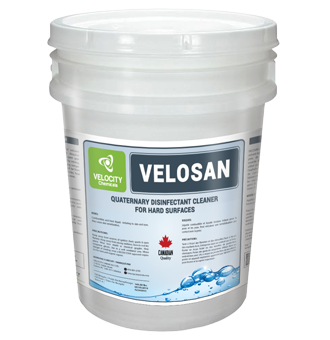 VELOSAN is a quaternary ammonium compound that can be used to disinfects, sanitizes and cleans hard surfaces. A DIN registered one-step sanitizer for food contact and non-contact surfaces, it is less corrosive than bleach and is classed by Health Canada as likely
effective against the COVID-19 virus
.
What Does This Mean for You?
USAGE

VELOSAN's quaternary ammonium compound-based formula disinfects hard surfaces, helping to prevent virus transmission. Less corrosive than industrial bleach, it cleans and sanitizes effectively without any risk of toxic Chlorine fume inhalation in poorly ventilated areas.

Safety Data Sheet

For additional information on VELOSAN, download a copy of our Safety Data Sheet (SDS).

BETTER CLEANER

VELOSAN is a highly concentrated quaternary ammonia-based sanitizer or disinfectant, depending on the dilution rate used. Recommended dilution rates of between 64mls and 100mls per 900mls of water for maximum effectiveness.

SMARTER CLEANER

VELOSAN non-acid disinfectant is DIN registered, and independently tested and proven effective against a range of pathogens. It is also confirmed as 'likely to be effective' against COVID19 virus,ensuring maximum disinfection on hard surfaces.

FASTER CLEANER

Easy to apply, simply spray surfaces liberally and allow 10 minutes minimum contact time. No rinsing is required. Just wipe away with a wetted cloth or let dry to ensure residual benefit.

NOW AVAILABLE

VELOSAN is available in Concentrate directly from Velocity Chemicals, with orders shipped to anywhere in Canada within 24 hours. To order, call one of our specialists today at toll-free 1-888-963-9499. Available Quantities:
4 Litre jugs
20 Litre pails
20 Litre drums
1,000 Litre totes

CUSTOM FORMULATION

Velocity Chemicals will partner with you to ensure you get the right product to suit your needs – precisely, safely and economically.

RECOMMENDED BY HEALTH CANADA

Health Canada has published a list of approved products. If a product is not on the list, it has not been approved for this use. DIN# 02280825

Sell Sheet

If you'd like to learn more about VELOSAN, you can download a copy of our latest sell sheet.
This product is only available in the Canadian market. Unfortunately, due to shipping constraints, we are unable to ship VELOSAN to our international customers at this time.
Why Should You Count on Us?
Because we already have a reputation that is second to none, with a proven record our clients can bank on. So, why not buy products directly from the manufacturer other companies trust? Here are just a few.
…and hundreds more.
---
We've been doing this for a long time, and naturally, people talk
Velocity Chemicals is incredibly reliable and a great team player to work with. They are one of our core, premium suppliers.
---