AQUASAVER: Velocity Chemical Introduces The Most Eco-Friendly Car Wash Yet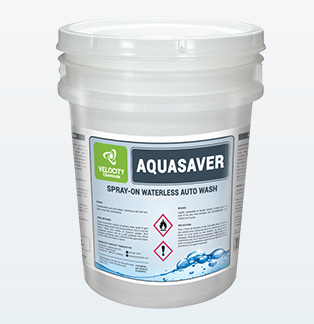 Surrey, BC
– Velocity Chemicals Ltd has announced the release of its newest and most eco-friendly car cleaning product yet, the revolutionary
AQUASAVER Spray-On Waterless Auto Wash
.
One of Canada's leading names in the formulation and manufacture of environmentally friendly chemical car wash solutions, Velocity Chemicals latest addition to its range allows users to wash vehicles thoroughly without the need to use water to rinse dirt and grime away.
The AQUASAVER Spray-On Waterless Auto Wash has been developed in response to increasingly alarming evidence that the water table across Canada and North America is falling. It has been specially formulated to clean, polish and protect vehicles, virtually anywhere.
Its ready-to-use formula requires no diluting and requires only a microfiber towel to apply to surfaces. It is a completely safe, biodegradable alternative to using soap and water that can leave a scratch-free finish. And because it can take less than 15 minutes to complete the process, it's also one of the fastest car wash options available too.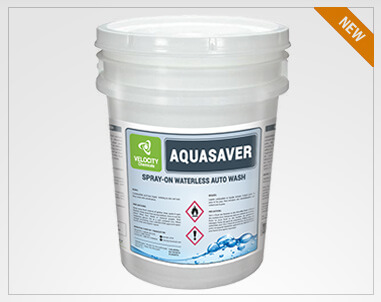 Lowering Water Consumption
Speaking of the development of AQUASAVER, Velocity Chemicals President and CEO Paul Krieser pointed to the importance of finding more responsible ways to meet the demands of modern everyday living. He stressed that, at a time when record-breaking droughts are affecting water tables, AQUASAVER is a positive move forward.
"We pride ourselves on making our products in Canada, and creating products of the highest quality that benefit our customers. However, beyond the quality of our products, we are also committed to reducing the environmental impact and carbon footprint related to manufacturing and distributing them," he said.
"Through AQUASAVER Spray-On Waterless Auto Wash, we are offering a way to help ease the worrying trend in water usage by making it possible to wash cars, trucks, motorcycles and other vehicles, without wasting large amounts of water. What is more, it's possible to accomplish this without compromising on the quality of the wash."
Canadian-born, Paul Krieser's own environmental values are a cornerstone of Velocity Chemical's corporate values, which explains why the company is one of the most innovative manufacturers of eco-friendly cleaning solutions, degreasers and demulsifiers in North America.
"Here at Velocity Chemicals, we are committed to designing our products with quality and sustainability in mind. That way our customers not only reap the immediate benefits by using them, but future generations reap the long term benefits of our contribution to a healthier environment."
In recent years, the media has highlighted increasing problems with water supply and consumption. In June, NASA reported that a third of the Earth's largest groundwater basins are depleting at a rapid rate. Two studies led by the University of California, Irvine (UCI), using data from NASA's Gravity Recovery and Climate Experiment (GRACE) satellites, revealed that, in the decade from 2003 to 2013, as many as 13 of the planet's 37 largest aquifers were being depleted without receiving sufficient recharge. Essentially, in some populous areas of the world, water consumption was significantly greater than water replenishment.
This is what has fueled California's water crisis, where overpumping of the Central Valley aquifer for agricultural purposes despite serious drought has left its water levels dangerously low. However, the whole western side of continental North America has been experiencing severe drought in 2015, making water consumption an important environmental issue across the continent.
Preventing Water Pollution
While helping to lower water consumption rates, AQUASAVER Spray-On Waterless Auto Wash also helps to lower water pollution generally. This is because, when washing a vehicle on a concrete surface, whether in the drive at home or in a car wash, water used to rinse away the cleaning substance runs into storm drains.
However, unlike water that runs into sanitary sewers, this does not undergo treatment before it is discharged. So, when cars are washed on streets, parking lots and driveways, it is dirty water that eventually winds up in rivers, streams and lakes. When Canada's vehicle-per-capita rate of 607 per 1,000 people is taken into account, it translates to a huge amount of dirty car wash water running untreated back into the environment is extremely high.
About Velocity Chemicals
Velocity Chemicals Ltd, with corporate headquarters, manufacturing and distribution facilities in Surrey, British Columbia, is a Canadian manufacturer of car wash solutions for both professional car washing services and commercial fleet washing. We sell both domestically and to the United States through a selective network of distribution. Velocity Chemicals products and services are used in Canada's largest companies across multiple industries.
Tags: car wash, Eco-Friendly, Spray-on, waterless