Demulsifier for Drilling Mud Waste Treatment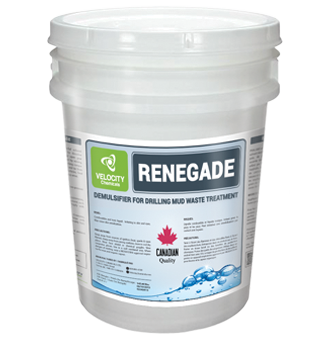 RENEGADE is a highly-effective demulsifier that dramatically simplifies the processing of Drilling Mud waste streams. Used at low temperatures and in low concentrations, it separates the homogeneous mix of oil, water and solids, allowing for the simpler removal of oil for recycling and the settling out of solids for more efficient waste-water treatment.
What Does This Mean for You?
USAGE

RENEGADE is formulated to lower oil-water solubility at low temperatures, splitting Drilling Mud into two or three distinct layers – oil, water and solids. Oil at the surface can be reclaimed for recycling. Solids settle, separating from water. Resultant water portion should be treated and disposed of in accordance with local regulations.

Sell Sheet

If you'd like to learn more about RENEGADE, you can download a copy of our latest sell sheet.

BETTER CLEANER

The carefully engineered formula separates the constituent elements of Drilling Mud streams quickly at low temperatures. Its effective usage concentration is low, making it longer-lasting and more cost-efficient.

SMARTER CLEANER

RENEGADE removes more oil from water at lower temperatures, ensuring that the quality of the reclaimed oil is high while also helping to keep the overall treatment costs down.

FASTER CLEANER

The fast-acting formula separates oil from water in less than 24 hours, dramatically reducing the time and cost spent readying the effluent for entry to the waste water treatment system.

NOW AVAILABLE

RENEGADE is now available directly from Velocity Chemicals, with orders shipped to anywhere in Canada and the US within 24 hours. To order, call one of our specialists today at toll-free 1-888-963-9499. Available Quantities: 20 Litre pails 20 Litre drums 1000 Litre totes

CUSTOM FORMULATION

Velocity Chemicals will partner with you to ensure you get the right product to suit your needs – precisely, safely and economically.
Why Should You Count on Us?
Because we already have a reputation that is second to none, with a proven record our clients can bank on. So, why not buy products directly from the manufacturer other companies trust? Here are just a few.
…and hundreds more.
---
We've been doing this for a long time, and naturally, people talk
Velocity Chemicals is incredibly reliable and a great team player to work with. They are one of our core, premium suppliers.
---