How The Right Marine Cleaning Product Can Make All The Difference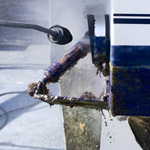 It might seem that boats would require little cleaning. But just because they spend so much time in the water does not mean they are kept clean. In fact, water – whether salt or fresh – can cause a buildup of soils, dirt and grime which, when left unattended to, can cause real damage. But with the right marine cleaning product, this problem can be dealt with.
Regularly cleaning a boat's hull is one of the most important aspects of boat maintenance. After all, boats are not a minor investment; they are a major one that requires careful attention to ensure the longevity of the vessel. So, understanding how best to clean a boat, how to remove its surface soils and grime effectively, while still providing genuine protection, is critical.
At Velocity Chemicals, we have observed how poor quality detergents, in many of the marine cleaning products on the market, can take their toll on boat surfaces. That's why we have introduced several products that are specifically designed to protect as much as clean boat surfaces.
Of course, adopting the correct marine and boating cleaning procedure is also a key factor in properly maintaining your boat. We've put together this short guide to the best way to clean your boat's hulls.
Maintaining Your Boat's Hull
As the area of a boat that spends most of its time in the water, the hull is the most commonly assaulted surface. Even when a boat is out of the water, it is exposed to the elements, which can erode the finishing and cause considerable damage.
This is especially true if a boat is used in coastal areas – when salt water can be corrosive and barnacle growth can be significant– or heavily polluted water in lakes and rivers, which can also eat away at the surface. So what is the marine and boating cleaning procedure that is most effective? And how can you be sure that the marine cleaning product you use is not going to cause damage?
Rinse down the hull thoroughly to loosen up soils. You should only use fresh water and, at this point, it's best to use a low-strength nozzle.

Carefully choose the right chemical marine cleaning product. It is best to use a non-caustic cleaner, since many caustic products can cause some damage to the surface. Heavy duty cleaners, such as Velocity Chemical's RELEASE, are formulated to work effectively during marine and boating cleaning, while also protecting the hull surface.

Mix the cleaner with water, following the instructions carefully. Don't let the solution stay on for more than 5 to 10 minutes because any chemicals sitting on a surface for too long can cause damage. Spray slowly and steadily, working from the top down to avoid streaking. Also, work in small areas at a time, no more than about four feet wide, so the chemical cleaner is not allowed to sit too long.

When using with a pressure washer, find one that generates 2000 PSI. This should be strong enough to shift grime and other soils quite well. Hold the gun 90 degrees to the surface, and move the spray slowly to get the best results.

Rinse down with fresh water to remove all traces of the chemical marine cleaning product from the surface. You can opt to wipe down the hull surface with a sponge to dry. But if the boat is a little larger, then you can simply leave it to dry naturally.
---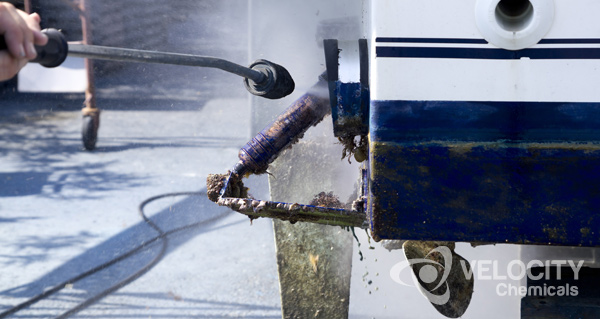 ---
Marine and Boating Cleaners from Velocity Chemicals:
Velocity Chemicals is a leader in the production of innovative marine cleaning products that provide an effective alternative to the type of toxic solvents that have been used for decades. We take particular care to formulate cleaners that not just remove the soils but also protect the surface of hulls, decks and other exterior surfaces on a boat or yacht. Among the variety of chemical cleaners suitable for marine and boating cleaning are:
ALUMAGLO – a medium-duty aluminum brightener, etchant and cleaner ideal for removing road film, rust, oxides, light oils and greases. Leaves a satin finish after cleaning. It is also used to remove rust stains out of gel coat without damaging the gel coat and to dissolve barnacles.
AVENGER – a non-caustic, light-duty all-purpose alkaline cleaner and degreaser designed for high-pressure washing. It's highly effective in cleaning grease and oil from engine blocks, transmission housings and internal engine components.
RELEASE – a multi-purpose, heavy duty non-caustic cleaner, it is effective for cleaning grease and oil from engine blocks, transmission housings and internal engine components.
Tags: Boat, Cleaning, Hull, Maintenance