Why Low Cost-Per-Gallon Truck Wash Detergent Is Not All It Seems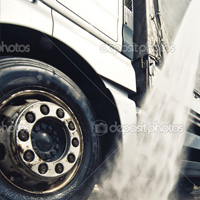 It is no surprise that every business wants to be as cost-efficient as possible. Saving on costs and lowering overheads are critical to remaining profitable. But when considering car and truck wash concentrates, it's not always wise to take what it says on the detergent tin as gospel. While it is helpful that truck wash detergent manufacturers publish information, like Cost-Per-Gallon, it is not the real figure that should be considered. The Cost-Per-Wash figure affects cost efficiency more significantly. It requires some calculation to discover, but the numbers uphold the idea strongly.
In essence, it relates to the amount of detergent required in each wash to ensure the expected results, and little to do with the price tag. So, low-cost detergents may not necessarily be the most cost-efficient truck wash concentrates. In fact, a higher cost detergent may actually be the best choice for maintaining (and even improving) operational efficiency.
Cost-Per Gallon vs Cost-Per-Wash
So, what is the difference between the two calculations? Well, Cost-Per-Gallon refers to the price of each gallon, while Cost-Per-Wash relates to the number of washes that each gallon can provide for. So, a 10-gallon drum that costs $50 has a Cost-Per-Gallon rate of $5, while a 10-gallon drum of a cheaper detergent that costs $20 has a Cost-Per-Gallon rate of $2. On this basis, the cheaper detergent looks more cost-efficient.
But, the key factor to consider is the degree to which each detergent can be diluted without adversely affecting the quality of the wash. If the more expensive has a dilution ratio of 100:1, then that means each gallon can be diluted to a factor of 100. In other words, the $5 gallon can cover 100 washes, which makes the Cost-Per-Wash a mere $0.05.
However, if the cheaper detergent has a dilution ratio of just 20:1, it means each gallon can adequately cover no more than 20 washes. So, the Cost-Per-Wash is $0.10.
On this basis, the most cost-efficient choice of truck wash concentrate is the more expensive one, which comes in at just half the cost of the cheaper option.
Other Factors Impact Efficiency
Calculating the difference between per-wash and per-gallon costs reveals only part of the benefits. There are other factors that impact on budgetary issues too.
Extra Scope – a chemical detergent with a higher dilution ratio offers a greater scope in strength. Simply adjust the dilution when needed to remove tougher grease and grit.

Lower Transportation Costs – with more washes available from each gallon, the cost of transporting more expensive detergent is actually much lower than transporting more units of the cheaper detergent. Basically, you need more of the cheaper option to do the same work.

Lower Labour Costs – equally, the cost of physically moving, managing and carrying the detergent is lower, which means less man-hours are required and, therefore, lower labour costs.

Lower Storage Costs – with more washes provided per gallon, less drums are needed to handle a set number of washes. This means less storage space is needed, thus lowering storage costs.
---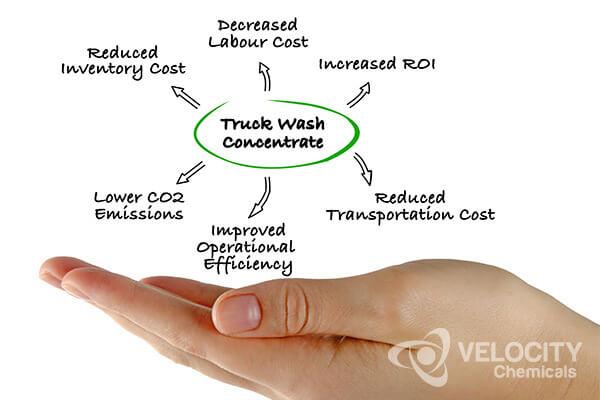 ---
An Environmental Plus
In a time of acute eco-awareness, it's worth pointing out the benefit that opting for better Cost-Per-Wash truck wash concentrates offer the environment. It comes down to the fuel consumed when transporting the detergent. With fewer drums required, fewer delivery trips are required which in turn significantly lowers the CO2 emissions. According to the EPA, 8,887 grams of CO2 is emitted per gallon of gasoline consumed by a vehicle, while 10,180 grams is emitted per gallon of diesel. So, the fewer trips the better for all of us.
Truck Wash Concentrates From Velocity Chemicals
At Velocity Chemicals, we have been developing car and truck wash detergents with cost-efficiency in mind for well over a decade. And with the latest plunge in the Canadian dollar, cross-border shopping to Canada is at its cheapest in 13 years, making our range of products more cost-efficient than ever.
Amongst our range of car and truck wash concentrates are:
Located in Surrey, British Columbia, Velocity Chemicals is a leading name in the manufacture of high-quality truck wash concentrates, as well as a host of other products like Aluminum Brighteners, Degreasers and Stainless Steel and Chrome Cleaners. And with an extensive distribution network, we are able to deliver high-quality chemicals and solutions throughout Canada, United States and Mexico.
At Velocity Chemicals, we firmly believe that our success depends on yours. That's why our chemical staff collaborates with our experienced sales team throughout product development. It's the best way to ensure our vehicle washing chemicals provide the right solutions.
For more information on how Velocity Chemicals can help improve your car and truck wash cost-efficiency levels, talk to one of our team at
1-888-963-9499
, or
email
us today!
Tags: Concentrate, Cost, Detergent, Savings, Truck Wash