5 Ways COVID-19 Can Change The Future of Travel Forever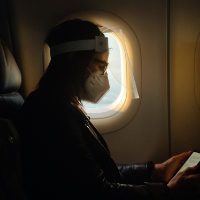 There is no doubt that the COVID-19 pandemic has hit the travel and tourism industry hard. But while recovery is expected over time, how we travel, whether internationally or domestically, is not likely to return to the way it was. So what long-term changes have the COVID-19 pandemic made to travel?
Comparisons have been made with 9/11, the last significant international incident to impact on the travel industry. It marked the introduction of a host of strict security measures. However, it was a single terrorism event whereas COVID-19 is a global pandemic that has been impacting travel for over six months (so far). But with health conditions now critical to passengers, drivers and pilots, and maintenance staff, many of the protective measures introduced to halt the spread of the novel coronavirus are expected to continue. In fact, Royal Caribbean Cruises CEO Ricard Fain has said that 'travel and tourism will grow … not by reverting to what it was, but by adjusting to a world where all activities, everything we do in the world will have changed'.
5 Ways COVID-19 Will Change Travel For Good
Air Quality Matters
The air quality will be a key feature, with air filtration systems in cabins and carriages likely to be enquired about by passengers. So much so, HEPA (high-efficiency particulate air) will become as well-known an abbreviation as ETA. Many airlines, like Air Canada, WestJet, JetBlue and Delta have been quick to make it known they are equipped with these systems.

Increased Cleaning and Disinfecting


Already recognized as the minimum measure in the fight against COVID-19, cleaning and disinfecting standards are more critical than ever before. Airlines, cruise lines, rail companies, public transport service providers, and commercial vehicle operators have all enhanced their cleaning regimens, using approved disinfectants and cleaning agents at greater daily frequencies. In New York, the MTA's cleaning regimen is described as a '

24/7 operation

', while in Toronto the 

TTC has undertaken it's most thorough

 cleaning and disinfecting measures ever. 

Masking Up




Many countries have already made mask-wearing compulsory, whether on buses, trams, trains, metros, or airlines. The policy has had great success in fighting the COVID19 spread. In France, for example, some 

150 COVID19 clusters

 were detected between May and June, but none were linked to any of the country's metro, tram, light rail, or urban bus systems. Why? Passengers have been wearing masks so not 

dispersing virus-infected aerosol

.

Visible Hand Sanitizer Dispensers


Before the COVID-19 pandemic, we hardly thought about disinfecting. Now, it's so important that hand sanitizers are among the most sought-after personal health products. Its efficacy in killing viruses on hands and skin ensures its go-to status is likely to continue. Subway, train, and bus stations, as well as ports and airports, will need to ensure approved hand sanitizers with over 60% alcohol solution are publicly accessible in dispensers – and travellers will be expected to use them.

Physical Distancing


The days of the rush-hour squeeze are numbered with physical distancing a concern for mass transit systems. Airlines, bus, and rail companies have already reduced the number of available seats to accommodate the recommended 6-feet (2-metre) distance between passengers. It's seen as a temporary measure due to the financial impact reduced traveller numbers will have, but there are alternative options:
Be sure to follow recommended dilution rates and contact times to ensure the disinfectant has the highest level of effectiveness. 
---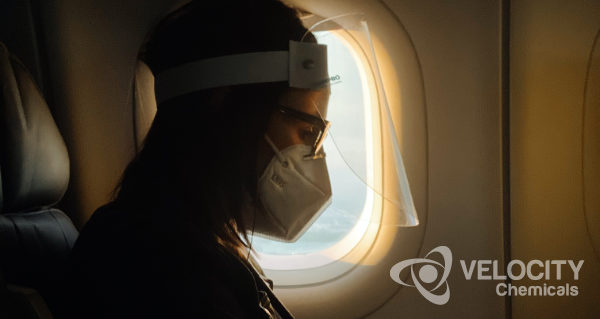 ---
Effective Disinfecting With VELOSAN
VELOSAN
is a concentrated quaternary ammonia-based compound that disinfects, sanitizes and cleans hard surfaces. It is Health Canada-approved in the fight against COVID-19 (check
DIN# 02280825
) and is a cost-efficient for commercial vehicle, plane, train or marine vessel operators, in the travel and tourism industry.
Its patented chemical formulation ensures maximum efficacy for specific needs.
Its all-in-one formula means it can replace multiple products.
Availability in 4 Litre jugs, 20 Litre pails, 200 Litre drums, and 1,000 Litre totes, suits a range of supply needs and budgets.
Its concentrated formula makes 16 bottles per each litre, making it highly cost-effective.
With 90% of ready-to-use cleaning products being water – stop paying for so much water and plastic packaging.
VELOSAN is available from our approved distributors and directly from Velocity Chemicals, with orders shipped to anywhere in Canada within 24 hours. To order, call one of our specialists today at toll-free 1-888-963-9499.
Tags: Covid-19, drivers, Maintenance Staff, Passengers, Pilots, Travel