Why the Brushless Truck Wash is a Prime Choice for Fleet Cleaning

Like every other kind of service industry, the truck wash has to evolve to keep ahead of the game. After all, from the vehicles they service to the chemical cleaners they use, research and development have had dramatic changes in the sector. A key development in large fleet washing, as needed in the trucking industry, is the brushless truck wash.
Brushless washing services offer several benefits to transit and transport companies across North America and Canada who have large fleets of vehicles to clean and maintain. Traditional washing techniques are slow and labour intensive, which means a slower turnaround, higher overheads and lower profits. The detergent is brushed on then rinsed off with a pressure hose, but when vehicles are covered in road film, grease and exhaust stains, cleaning a large fleet is not going to be done quickly.
Worst of all, the labour hours used often result in corners being cut to save money, which usually means lower quality detergent that fails to clean effectively is used, ultimately leaving the fleet looking drab and old.
Brushless truck washing uses high-pressure sprayers, which shoots water at the vehicle surface to lift off dirt and grime quickly and effectively. And because no brush touches the vehicles, the possibility of scratching becomes practically zero.
The brief overview of the benefits of using a brushless truck wash is one thing, but of course, the chemical cleaner used in the system makes all the difference. Choosing the right one, therefore, becomes a paramount element in ensuring an effective and efficient clean.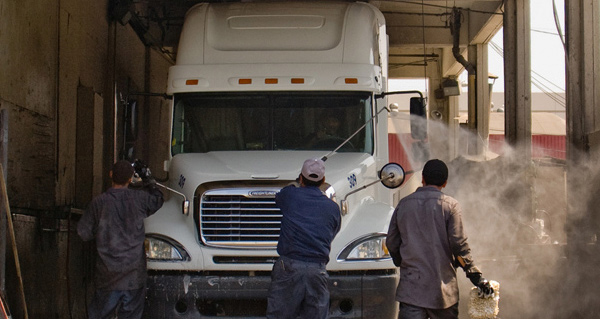 ---
Choosing the Right Detergent
When choosing the right detergent, there are 4 principal factors to consider. This is because the chemical makeup of the truck wash cleaner impacts on how successful the cleaning process is.
These 4 issues are the technology behind the detergent; its proper dilution; its ease of use; and finally its price.
1. Technology
The type of technology used in formulating detergent has a definite impact. The harsh soap formerly used to aggressively break down dirt and grime has been replaced by surface-active agents (or surfactants) that have been blended to a set pH strength. Along with highly effective rinsing agents, these products are faster, more effective and do not damage surfaces like glass, plastics or painted metal.
2. Proper Dilution
Getting the chemical solution right through proper dilution is critical too. When properly diluted, less high-quality detergent is needed to achieve an excellent clean, which means a more cost-effective use of the product. It can also be rinsed off more easily, leaving no streaks.
3. Ease of Use
Complicated methods are the last thing you want, but brushless truck washes comprise a process that allows for very easy application. Your staff does not need to attend special training days to learn to get the best results, and speed and thoroughness can be relied upon.
4. Price
We know that cost-efficiency is always high on your list of priorities, but it would be a mistake to consider price ahead of the other 3 factors. Remember the old adage "you get what you pay for", so expecting a high quality detergent for a bargain basement price would be a mistake.
How Velocity Chemicals Can Help?
At Velocity Chemicals, we offer a comprehensive solution to brushless truck wash service providers. That's because our range of truck and fleet wash detergents are designed not only to clean but to "Clean Better".
Our extensive line of chemical cleaners comprise truck and large vehicle washing and professional car washing detergents, including degreasers, floor cleaners, sanitizers, low and high pH presoaks, foam detergents, drying agents, triple foams, clear coat sealers and protectants, tire, rim and wheel cleaners and many specialty products for a variety of industries.
But for brushless truck washes, 3 products in particular are the most effective to choose. Simply contact us to order a FREE SAMPLE:
MOBIUS is a tough, highly concentrated, foaming vehicle detergent which is ideal for removing road film, insects, bugs and light oil and grease. It is perfect for brushless pre-spray and high-pressure wand wash applications.
ETCH FREE II is an acid-based aluminum and stainless steel cleaner that is perfect for using on exterior polished metal surfaces. High foaming, it is also highly effective at removing rust and oxides.
ABF is a heavy-duty aluminum brightener, etchant and cleaner that is ideal for removing road film, rust, oxides, light oils and greases. It leaves a satin finish to surfaces after cleaning, and is a preferred choice for trucking companies and for cleaning the exteriors of trucks, trailers and other vehicles.
What makes Velocity Chemicals different is our commitment to our customers. We offer an in-depth analysis and consultancy service where we analyze your chemical delivery system and wash equipment,
so that we can recommend the right choice of chemicals
for you. We can also train your staff on the proper use of our products to ensure the very best cleaning results. So, with Velocity Chemicals you get the right chemical cleaning product for your brushless truck wash, advice on the correct chemical solutions to use, and of course customer support 24/7!
Photos courtesy of Flickr