BUNKER BREAKER II: The Newest Demulsifier For The Maritime Industry

Surrey, BC Canada
– Velocity Chemicals Ltd, one of Canada's leading names in the formulation and manufacture of chemical demulsifiers, has announced the release of
BUNKER BREAKER II
, a demulsifier specifically designed to address the needs of the shipping industry.
The newest member in Velocity Chemicals' range, BUNKER BREAKER II provides maritime operators with the most cost-effective and efficient way to recycle ship slop oil, tank sludge and bilge water waste, and reclaim the expenses involved in meeting their environmental obligations.
BUNKER BREAKER II is completely harmless, comprising environmentally acceptable chemicals, which aid the separation of the water from oil. Its high level of effectiveness is due to the fact it continues working even after the water has been discharged.
Formulated to the highest industry standards, this chemical demulsifier is designed to meet the specific challenges posed by each vessel. Velocity Chemicals takes samples of the slop oil and, after detailed testing, evaluates the right demulsifier for that particular ship.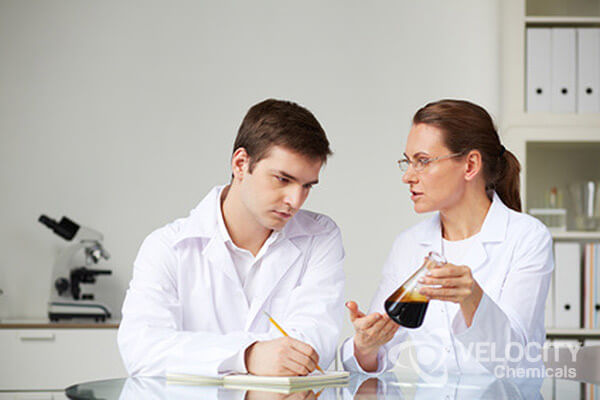 ---
SLASH SHIP WASTE OIL DISPOSAL-RELATED COSTS!
BUNKER BREAKER II is the most efficient solution yet for the safe disposal of ships' waste oils and sludge in accordance with existing laws and regulations. As a highly effective ship slop oil demulsifier, it works by reducing the high water content of sludge, creating two main advantages:
the sludge tank requires emptying less frequently, thereby reducing maintenance costs and time
waste oil disposal costs are reduced or eliminated as the reclaimed oil is of a high enough quality to allow it reuse on board
BUNKER BREAKER II is already being used by major waste oil treatment companies to reclaim slop, lube, and crankcase oil waste oil for recycling into reusable bunker fuel oil.
BUNKER BREAKER II is the most advanced of our range of chemical demulsifiers, offering our customers with the highest levels of efficiency and reliability," said Paul Krieser, President of Velocity Chemicals. "Ideally suited to any industry where demulsifying processes are required, but for the maritime industry especially, BUNKER BREAKER II can drastically reduce the costs involved in waste oil recycling and meeting modern environmental regulations.
VELOCITY CHEMICALS CUSTOMER SERVICE
Velocity Chemicals offers the complete customer service, providing such services as:
on-site and laboratory analysis to identify the right demulsifier for the job
on-site technical assistance regarding the correct dosage rates and the best application points
regular checks to ensure the demulsifier remains effective
Velocity Chemicals has built a strong reputation as a leading manufacturer of environmentally sustainable chemical cleaning and demulsifying solutions. Their products are produced using the most environmentally friendly methods possible, and manufactured with biodegradable formulae.
And with a team of highly trained and vastly experienced chemists, their range of products undergoes the most stringent testing before being released on the market. These products are manufactured at its modern production facility to precise formulations before being shipped to their customers throughout North America.
In addition to BUNKER BREAKER II, Velocity Chemicals Ltd provides a wide range of products designed for the water and waste oil treatment sector, including EZ-DMULSE (a multipurpose, low-high temperature demulsifier), HYDROGEN PEROXIDE (oxygenated bleach additive for disinfection and odor control), INDUSTRIAL BLEACH (chlorinated bleach additive for disinfection and odor control), and PAC-D (coagulant additive for treating wastewater).
About Velocity Chemicals
Velocity Chemicals Ltd, with corporate headquarters, manufacturing and distribution facilities in Surrey, British Columbia, is a Canadian manufacturer of chemical specialty maintenance products. We sell both domestically and to the United States through a selective network of distribution. Velocity Chemicals products and services are used in Canada's largest companies across multiple industries.
Tags: Bunker, Demulsifier, Emulsions, Oil