COVID19: Effective Disinfection Can Benefit The Transportation Industry
The transportation industry is used to dealing with challenges, but the COVID19 pandemic has created their most severe challenge. For airlines, buses, railways and metro services, ensuring that passengers and staff are safe from the pathogen is crucial – that means more effective disinfecting and sanitizing measures. Whether the transportation service is global, national, regional or urban, the same problem is faced. Lockdowns, travel restrictions and general public fear translate to drastically lower passenger numbers –
New York City ridership has fallen
by 20% on subway services and 15% on buses. However, since travel remains necessary for millions of people, and there is a need to maintain services, there is a heightened responsibility amongst urban, public and commercial transport services to provide the safest possible travel environment – both for passengers and employees.
How COVD19 Can Spread On Transport
According to the 
World Health Organization
, contact with an infected person is defined as being seated within two rows of that person
on an airplane
. This can be applied to busses and trains too. Both time and distance are key contributors to the spread of microbial entities, with exposure to an infected person within a distance of 6 feet for over 10 minutes greatly increasing the chances of infection. Air flow has little impact on the spread. It is direct contact with the droplets of saliva or mucus expelled from the body through coughs and sneezes that infects. These droplets fall on surfaces, which when touched can then transfer onto another person.
Global Transport Affected
In Finland, the government has
kept the public transport system running
but vehicles are required to be cleaned more thoroughly and bus drivers are no longer permitted to sell tickets because of the exchange of cash. Even stations are being cleaned more regularly. In the US, individual city transport authorities have introduced a
range of measures
, with New York's transit agency confirming its fleet of trains and buses will get a
'deep clean' every 72 hours
, amongst other measures. Airlines, meanwhile, are being forced to cancel flights domestically and internationally, impacting their bottom line and placing them in a volatile position economically.
---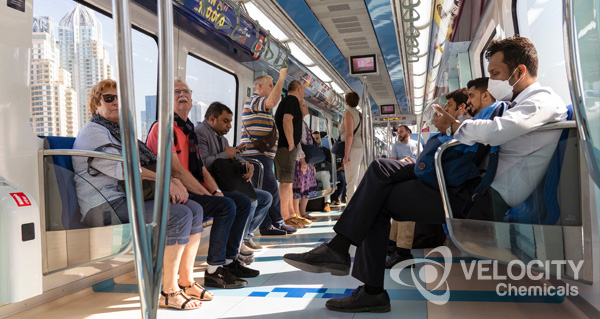 ---
Effective Disinfecting and Sanitizing
The cleaning procedures so important under normal conditions are unlikely to be sufficient for dealing with COVID19. Therefore, cleaning frequency and the quality of disinfectant are important. But what are the critical considerations to ensure the highest efficacy rate?
Likely Effectiveness Against COVID19 – Health Canada has stressed that existing products cannot claim to be a guaranteed solution to the Coronavirus, mainly because there has been no time to carry out tests. However, they have identified certain products as 'likely to be effective' against COVID19, and these are the products to use.
Velocity Chemicals' own VELOSAN has been officially authorized and is a 'likely to be effective' disinfectant.
Easy To Apply – Plane interiors, train and tram cars, and buses are all enclosed spaces with a large area of hard surfaces frequently touched by people, giving them a high contamination potential. It's important, therefore, that disinfectant application is fast and easy.
Most disinfectants are available in concentrated form, then diluted. Spraying is the easiest mode, while a short surface contact time (10 mins) with no rinse away requirement all helps to save time.
VELOSAN is a highly concentrated quaternary ammonium compound which disinfects or sanitizes with a lower concentration. Disinfecting is more thorough than sanitizing.
Safer Disinfection – Increased disinfecting frequencies may deliver more thorough cleaning, but when using industrial bleaches, which have a 12% bleach solution, surfaces can be damaged. Ammonia compound disinfectants are non-acidic and therefore less corrosive, protecting vehicles while still allowing for increased cleaning intensity.
Industrial bleach also brings the risk of toxic Chlorine fumes, which are dangerous to inhale. VELOSAN is a bleach alternative that is safe.
Cost Efficiency – With the economic impact of COVID19 looming, keeping operational costs down is essential too. With highly concentrated disinfectants, cost efficiency can still be maintained. At Velocity Chemicals, we recommend a dilution rate when using VELOSAN of between 64mls and 100mls per 900mls of water for maximum effectiveness.
VELOSAN From Velocity Chemicals
At Velocity Chemicals, we have a wide selection of high-performance cleaning products to deal with both the exterior and interior cleaning requirements of the transportation industry, whether for railroad, airline and urban rapid transit services.
VELOSAN
 uses a quaternary ammonium compound to not only clean but disinfect and sanitize hard surfaces. CFIA approved, it's an effective one-step sanitizer for surfaces where a rinse is not required. Its non-acidic formula has no phosphates and cleans, disinfects, and deodorizes at the same time.
VELOSAN
also has a federally recognized Canadian Drug Identification Number (DIN) and has been authorized as a 'likely to be effective' against COVID19.
To learn more about how our range of products can improve your operation's efficiency, or just to ascertain which Velocity Chemicals cleaning product best suits your needs, why not talk to one of our team at 1-888-963-9499.
Tags: COVID19, Transportation Industry