COVID19: How The Entertainment Industry Can Maximize Safety At Venues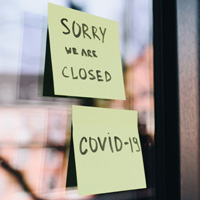 'Stay Home' and social distancing measures have ensured the entertainment industry is another casualty of the COVID19 crisis. Venues have been closed and events have been cancelled, dramatically impacting the industry's revenues and jobs. Brighter days do loom over the horizon, but to be fully ready for the return to normal operations, effective disinfecting is a must. When attempting to curtail the spread of a highly contagious virus, it makes logical sense to prohibit social and public gatherings. Provincial governments have
enforced a host of measures
including shutting non-essential businesses, public facilities and a host of public entertainment venues, like sports arenas, theatres and casinos. Cineplex, which closed its 165 movie theatres across Canada initially until April 2,
has extended the period of closure
due to the COVID-19 pandemic. Meanwhile, the
major sporting governing bodies
(NHL, NLL, NBA, MLB, MLS) have halted their competitions, while gyms and public sports facilities have also ceased to operate.
Why Entertainment Venues Are A COVID19 Risk
There are several factors that explain why entertainment and sporting events offer a genuine risk to public health amidst the coronavirus pandemic:
Event Production – When organising and producing an event at an entertainment venue, employees, from stagehands and groundskeepers to security personnel and administration staff, may have to work closely together, coming into contact with the same hard surfaces and use the same equipment.
Proximity To Others –  By definition, cultural, sports and educational events in publicly attended venues bring multiple people into very close proximity of each other. This is true not just of spectators but of players and entertainers too. Even in seated arenas, the recommended 6-foot (2-meter) distance between individuals is difficult to ensure.
Vulnerable To People Flow – The entertainment industry does not work in isolation, with vital maintenance, logistical and delivery services playing key roles in operation. These other small and medium-sized enterprises bring a flow of individuals that may unknowingly contaminate the venue simply by being there for a short time.
---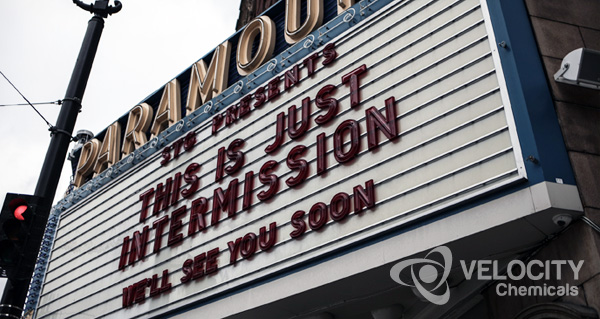 ---
How The Right Disinfectant Can Aid The Entertainment Industry
As with other industries, the entertainment industry can help to prevent the spread of the coronavirus by enhancing their cleaning procedures, and in particular choosing the right disinfectant to clean hard surfaces with. The
coronavirus is known to survive on hard surface
for long periods of the time, with research showing the coronavirus survives for:
72 hours on plastic and stainless steel
24 hours on cardboard
4 hours on copper
3 Key Features Your Disinfectant Needs
Recognised Effectiveness
Before anything else, your chosen disinfectant needs to be officially acknowledged by a recognised authority. That means that Health Canada should have confirmed the product as being 'likely to be effective' against COVID19. At Velocity Chemicals, our own VELOSAN hasbeen officially authorized as that.
Effective On Hard Surfaces
Entertainment venues feature multiple types of hard surfaces, especially plastic seating, armrests and stainless steel bars, railings and door handles. A disinfectant needs to be effective on these surfaces. Quaternary ammonium compounds (quats) are highly effective against fungi, bacteria and viruses, but because they are catalytic, they linger on surfaces to ensure COVID19 is dead. Rinses are not required.
Fast Application, Fast Action
Because of the areas that typically need to be disinfected (accommodating hundreds up to tens of thousands of people) time is at a premium. Disinfectants must therefore be applied and take effect quickly.
Because VELOSAN is available as a concentrate, it is easy to dilute and spray onto specific surfaces. It also requires a surface contact time of only 10 minutes, making it fast-acting as well as thorough.
Safer Disinfection
Industrial strength bleaches can be too strong and corrosive, and come with the risk of toxic Chlorine fumes when used in enclosed areas. Ammonia compound disinfectants are non-acidic and therefore safer and less corrosive.
VELOSAN From Velocity Chemicals
At Velocity Chemicals, we have a wide selection of high-performance cleaning products to deal with both interior and exterior cleaning process so important to the entertainment industry.
VELOSAN
 uses a quaternary ammonium compound to clean, disinfect and sanitize hard surfaces. CFIA approved, it's an effective one-step sanitizer for surfaces where a rinse is not required. Its non-acidic formula has no phosphates and cleans, disinfects and deodorizes at the same time. VELOSAN also has a federally recognized Canadian Drug Identification Number (DIN) and has been authorized as a '
likely to be effective
' against COVID19.
Tags: COVID19, Entertainment Industry