COVID19: Is Your Disinfectant Keeping Guests Safe During The Crisis?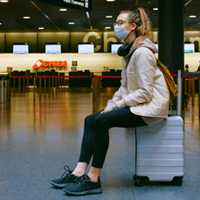 For the tourism and hospitality industries, the COVID19 crisis has had a severely damaging impact. But while business has been brought to a virtual halt, hoteliers are still hosting some residents or now welcoming patients, making effective disinfecting critical. The
range of travel restrictions
in place has ensured a slowing of the spread of the virus, but the measures have not come without effects for two of Canada's most important industries. According to
figures released by STR
, the hotel industry performance data specialists, occupancy in Canadian hotels from 29 March to 4 April was down 79% compared to the same period in 2019, with daily rates falling by 30.5% and revenue by 85%. Meanwhile, airlines and other modes of transport important to tourism have also decreased their activities. According to
Flightradar24.com
, the live flight tracking service, global flights have fallen from over 15,000 on 7 March to 5,275 on 7 April. In North America, there were 2,950 flights (mostly in the US) compared to 8,400 over the same period. Similarly,
train services
in the US are operating at 40% normal frequency in some areas, with some also cancelled, while in Canada, VIA Rail has limited some intercity routes and suspended others.
Ensuring A Safe Environment During COVID19 Crisis
With so many hotel rooms now left empty, hoteliers have taken the generous step of
offering space to patients
to alleviate the growing pressure on hospitals. But with that step has come a responsibility to keep patients, carers and staff safe. The
Hotel Association of Canada (HAC)
has been quick to provide information on protecting guests and staff during the COVID19 crisis. These include protocols and protection measures, with one of the key measures being the need to disinfect and sanitize thoroughly and regularly. Travel companies have instigated major changes to their cleaning procedures, not least airlines, who are using a
fogging process
to spray disinfectant quickly through the plane interior. The
World Health Organisation (WHO)
has provided detailed information (shared by the HAC) on how to prepare any workplace for COVID19. Hard surfaces and commonly used objects must be disinfected, because contamination on surfaces touched by employees, guests and passengers is one of the ways COVID-19 is spread. In fact, research has discovered the coronavirus can survive on a hard surface like plastic for up to 72 hours, and on cardboard for 24 hours. The challenge then is to ensure the chosen disinfectant delivers the highest efficacy rate possible.
---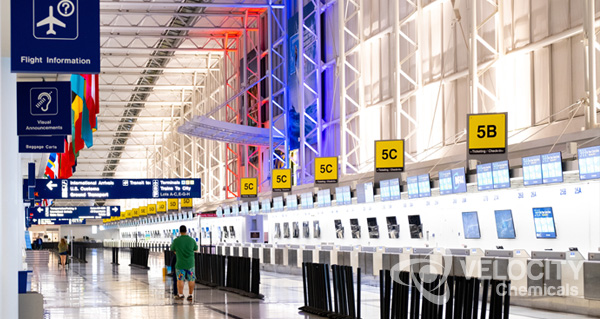 ---
Key Considerations Choosing A Disinfectant
Effectiveness Against COVID19
It is important your chosen disinfectant is recognised by Health Canada as a product 'likely to be effective' against COVID19. This is ascertained if a product is known to deal with harder-to-kill viruses or to deal with other covid strains. Velocity Chemicals' own VELOSAN has been officially authorized as a 'likely to be effective' disinfectant.
Quaternary Ammonium Option
Many disinfectants use Hydrogen Peroxide but this is not always ideal. Quaternary ammonium compounds (quats) are more stable. Quats are highly effective as a fungicidal, bactericidal, and virucidal cleaner and in being catalytic, are not destroyed in the process. So, you don't need to rinse after application.
Fast Acting
It is important the disinfectant works quickly, as well as thoroughly. Therefore, a disinfectant with a short surface contact time (CT) is a key consideration. VELOSAN requires a CT of just 10 minutes, thus saving time.
Safer Disinfection
Industrial bleaches, often with a 12% bleach solution, can damage surfaces because of their corrosiveness. There is also the risk of toxic Chlorine fumes when used in enclosed areas. Ammonia compound disinfectants are less noxious and corrosive, therefore safer by comparison.
Cost Efficiency
With costs always a concern, highly concentrated disinfectants offer a more cost-efficient option. When using VELOSAN, we recommend a dilution rate of between 64mls and 100mls per 900mls of water for maximum effectiveness.
VELOSAN From Velocity Chemicals
At Velocity Chemicals, we have a wide selection of high-performance cleaning products to deal with both interior and exterior cleaning process across numerous industries, including tourism and hospitality.
VELOSAN
 uses a quaternary ammonium compound to clean, disinfect and sanitize hard surfaces. CFIA approved, it's an effective one-step sanitizer for surfaces where a rinse is not required. Its non-acidic formula has no phosphates and cleans, disinfects and deodorizes at the same time. VELOSAN also has a federally recognized Canadian Drug Identification Number (DIN) and has been authorized as a '
likely to be effective
' against COVID19.
Tags: COVID19, hospitality, tourism