How Transport Canada's Covid-19 Guidelines Keeps Fleets On The Road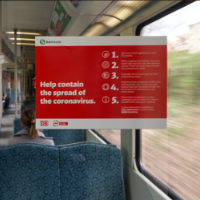 For the travel and tourism industry, the introduction of travel restrictions has placed commercial vehicle operators in a difficult position. But Transport Canada's COVID-19 guidelines for fleets and drivers have helped operators respond in the best way to keep fleets and drivers on the road.
Entitled the
Federal Safety Guidance to Protect Drivers and Limit the Spread of Covid-19 in Commercial Vehicle Operations
, it has a lengthy name but has laid out simply the key steps fleet operators should take to protect employees and hinder the spread of novel coronavirus. These include the adoption of new practices, like proper handwashing and sanitizing techniques and social distancing, and new protective measures, like providing PPE. But what are the principal COVID-19 guidelines commercial vehicle operators need to attend to?
Key COVID-19 Guideline Points
The COVID-19 guidelines can be divided into two main categories: Vehicle Cleaning; and Health and Personal Hygiene.
Vehicle Cleaning
Equipment
In order to fully protect personnel, they must be provided with sufficient amounts of the correct Personal Protection Equipment (PPE). For transport drivers, these include effective cleaning agents and disinfectants, paper towels, waste disposal bags, and disposable cloths.
Target High-Touch Areas
All surfaces in a driver's cab need to be cleaned thoroughly, but high-touch areas need to be disinfected regularly. Most are obvious like door handles, armrests, the steering wheel, shift levers, and dashboards, but there are also less obvious areas, like starter buttons, the glove compartment, lock switches, and even keys or fobs.
Procedure
The procedure to follow when cleaning vehicle interiors must be carefully adhered to in order to be sure of the quality of cleanliness. Amongst the most critical aspects are:
Avoid direct contact with any contaminated areas. So, wear disposable waterproof gloves when cleaning and avoid touching your face.

Use only a Health Canada-approved disinfectant on hard surfaces. Check their official list of products recognized as 'likely to be effective' against COVID-19 – one of which is our own VELOSAN.

Be sure to follow recommended dilution rates and contact times to ensure the disinfectant has the highest level of effectiveness. 
Safe Disposal
Safely disposing of used PPE is equally essential, as well as any soiled cleaning clothes and disinfection clothes are also important. This waste should be discarded in a waste disposal bag, sealed. After that, wash hands thoroughly using soap and water for 20 seconds and use recognized hand sanitizers to maintain safety after cleaning, but also throughout the day..
---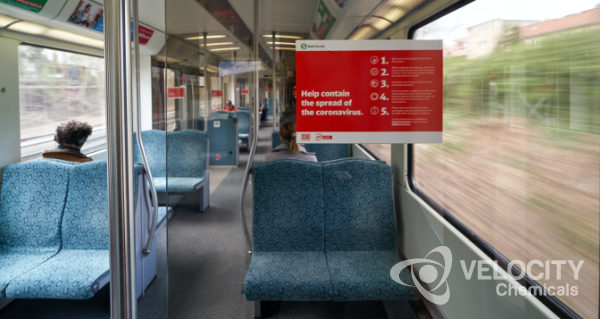 ---
Health & Personal Hygiene
Self-Monitoring
The importance of personnel self-monitoring for symptoms of COVID-19 is significant. High temperatures, mild coughs, and sneezing should prompt a period of self-isolation. Being continually aware is equally important, so drivers need to avoid touching their eyes, nose, or mouth with unwashed hands.
Personal Hygiene
A critical part of efforts to stop novel coronavirus is to wash hands regularly. A carefully followed procedure is needed however, washing for 20 seconds in soap and warm water proved to be effective. However, sanitizing is also an important part of prevention. Using an alcohol-based hand sanitizer with concentrations of above 60%, like Velocity Chemicals' FORTRESS, provides ideal effectiveness.
Physical Distancing
Maintaining a physical distance of at least 6 feet (2 metres) in face-to-face meetings has been shown to be effective in preventing the spread of the virus. It stands for rest-stops and customer contact as much as it does for workplace scenarios. Also, avoid handshakes and other forms of physical contact.
VELOSAN for Effective Disinfecting
VELOSAN
is a concentrated quaternary ammonia-based compound that disinfects, sanitizes and cleans hard surfaces. It is Health Canada-approved in the fight against COVID19 (check
DIN# 02280825
) and is a cost-efficient for commercial vehicle operators in the travel and tourism industry.
Its patented chemical formulation ensures maximum efficacy for specific needs.
Its all-in-one formula means it can replace multiple products.
Availability in 4 Litre jugs, 20 Litre pails, 200 Litre drums, and 1,000 Litre totes, suits a range of supply needs and budgets.
Its concentrated formula makes 16 bottles per each litre, making it highly cost-effective.
With 90% of ready-to-use cleaning products being water – stop paying for so much water and plastic packaging.
VELOSAN is available from our approved distributors and directly from Velocity Chemicals, with orders shipped to anywhere in Canada within 24 hours. To order, call one of our specialists today at toll-free 1-888-963-9499.
Tags: Covid-19, drivers, fleets, Guidelines, Transport Canada