RENEGADE: Velocity Chemicals Launches New Economically Efficient Drilling Mud Demulsifier

Surrey, BC
– Velocity Chemicals Ltd. has announced the launch of
RENEGADE
, a new highly-effective, more economical drilling mud demulsifier specifically designed to perform at low temperatures.
Canadian made and competitively priced, RENEGADE has been created to service the needs of drilling companies, oil recycling processors and waste treatment companies who handle treatment and disposal for drilling companies operating throughout Canada, and the United States, especially in the Eastern Regions and along the Eastern Seaboard.
With concerns over the environmental impact drilling mud streams have now at an all-time high, RENEGADE offers a cost-effective solution. Its formula quickly and effectively reduces water-in-oil levels, separating the constituent parts into two or three layers to make reclaiming the oil easier.
The formula can be tailored to match the specific features of each individual drilling operation, ensuring the best possible results whatever the geological makeup at a site.
RENEGADE is available in a concentrated form, with its low usage concentration making it a far more economical option compared to other demulsifiers available on the market but without compromising on the quality and speed of its performance.
---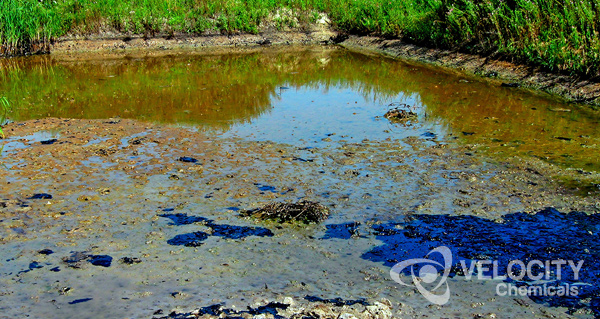 ---
HOW IT WORKS
Drilling muds are essential to maintaining drilling machinery, removing potentially damaging cuttings as well as lubricating and cooling the drill bit itself. But it is equally essential that the homogeneous drilling mud waste is properly treated, with the mixture of oil, water and solids (cuttings and other particles) separated before the fluid itself is reused.
Chemical demulsifiers can successfully carry out this task, making a key contribution to quality and cost-efficiency in the oil production process.
SPECIALLY FORMULATED FOR UNIQUE NEEDS
Drilling mud is engineered to a specific necessary weight, usually between 8.33ppg and 12.5ppg though it can continue up to 18ppg and above if the well is particularly deep. The precision with which the mud is formulated means the demulsifier must also be precisely formulated if it is to be fully effective.
At Velocity Chemicals, we partner with our clients to adapt the RENEGADE formula so as to ensure they get the right product; the one that best suits their unique needs.
Our specialists carry out a consultation to ascertain the specifics of your operation before fine-tuning the formula. In this way, we create a drilling mud demulsifier that is perfect right for handling the challenges you face – safely and economically.
LOWER COSTS, GREATER ECONOMY
Operational costs are always a concern for operators. The management and safe disposal of drilling mud can be expensive, while failure to adhere to environmental regulations may result in severe fines, often running into the millions of dollars.
RENEGADE addresses both factors at once. It is fast-working, and its high-quality performance is reliable every time, ensuring your operation is well-maintained and can safely continue at full capacity.
And because it is available in a concentrated form, with only low concentrations necessary to achieve maximum performance, it is a more economical dollar-for-dollar option than other drilling mud demulsifiers on the market.
MEET ENVIRONMENTAL EXPECTATIONS
A key concern in all drilling operations is to reduce both safety and environmental risks, while ensuring drilling performance is maintained at its highest level.
To this end, Canada's federal environmental legislation on drilling mud waste management, and the responsible disposal of that mud, is as important a consideration as any technical aspect.
RENEGADE helps drilling operators maximize their commitment to responsible waste disposal by ensuring a more effective removal of oil and waste solids from water before recycling.
AVAILABLE NOW
RENEGADE
is available in 20 L pails, 200 L drums and 1000 L Totes to match your specific need. You can order directly from Velocity Chemicals, with shipping to anywhere in BC within 24 hours.
For more information or to place an order, call one of our experts Toll-Free on 1-888-963-9499.
Tags: Demulsifier, Drilling, Mud