Demulsifiers: What Are They and Why Your Operation Needs Them

It's the same whether you are maintaining a home or industrial machinery; using common brands without question is not a wise idea. Do you ever consider whether your laundry powder actually does what it claims to? Do you check to see if the polish used on your fine dining table is doing it more damage than good? When it comes to the equipment vital to your processing or refining operation, it is always worth asking questions. Your choice of demulsifier is a perfect example.
At Velocity Chemicals, we stress to all our customers the importance a truly effective demulsifier has to their operation. In fact, it could be the difference between wasting and saving millions of dollars. This is especially true for both the petroleum industry and water treatment sector. But why is this the case? And how can the right brand really make a difference?
What is a Demulsifier?
First, a brief chemistry lesson. Natural resources are rarely found in their purest forms, but are usually found with particles and foreign bodies mixed in. The most common example is water and oil, two substances that don't mix very well naturally but are frequently found together. Crude oil is typically produced along with saline water (salt water). The water is emulsified because droplets are trapped within the oil. These substances do tend to separate naturally in time, but the length it usually takes is a serious issue for processing industries. By adding a chemical demulsifier – chiefly comprising polymers – the water and oil are brought together into separate bodies quickly, making it easy to extract the one from the other. As you would expect, there are various chemical demulsifiers (also known as Emulsion Breakers) on the market. While the variety is partly due to several companies manufacturing their own brands, it is also down to the fact that different grade oils require different demulsifier formulas. The formulas are varied, but the most common demulsifiers are:
Acid or base catalysed phenol-formaldehyde resins
Epoxy resins
Polyethyleneimines
Polyamines
Di-epoxides
Polyols
Dendrimer
Water solubility can be adjusted by the addition of a little Ethylene oxide (increase) or Propylene oxide (decrease). Most pre-manufactured (not custom formulated) demulsifiers comprise blends of up to four of the substances listed above.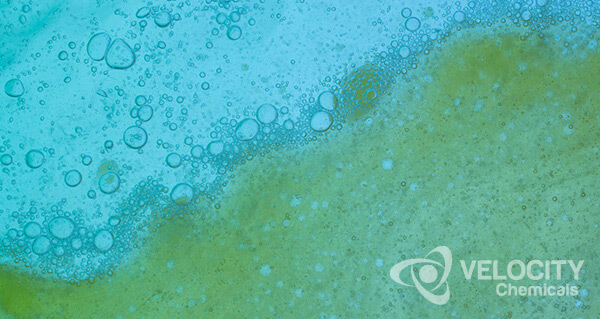 ---
Why Worry About Demulsification?
As we pointed out, simply accepting what we're told is the best brand is unwise. Understanding why the demulsification process is so important is another matter. Basically, demulsification will save your operation money by increasing operational efficiency and lowering maintenance costs. Typically, the negatives of using a poor chemical demulsifier includes:
Substance foaming
Corrosion damage to pipelines
Corrosion damage to storage tanks
Increased power consumption
Increased volume and viscosity
The benefits of getting the demulsification process right includes:
Greater operational efficiency
Lower maintenance costs
More eco-friendly operations through effective oil recycling
Velocity Chemicals Make Your Choice Easier
Finding a product that suits your specific needs is essential. Thankfully, we have built our reputation on our ability to customize our range to ensure they meet these needs. To do this we work hand in hand with customers in different petroleum fields developing demulsifiers for light, medium, and heavy crude oils, which can be applied to both summer and winter conditions. However, two of the Velocity Chemical range of chemical demulsifiers have already been proven highly effective and highly popular.
BUNKER BREAKER II is ideally suited for bunker and lube oil waste treatment. Formulated specifically to remove water from bunker oil waste, but as a multipurpose demulsifier, it can easily be used with slop and crankcase oil waste too. It is specially formulated to work at high temperatures, quickly separating water from waste oil to ensure the best quality recycled oils, ready to be reused where necessary.
EZ-DMULSE is perfect for bunker and waste oil treatment. This multipurpose demulsifier is specially formulated to work at lower temperatures, successfully separating water from lube, crankcase and slop oil so that they can be re-used as recycled bunker fuel oil.
At Velocity Chemicals, we pride ourselves in the fact we do more than simply provide high-quality chemical demulsifiers. We also offer expertise in operational analysis that allows us to identify your precise needs. We provide:
on-site and laboratory analysis to identify the right demulsifier for the job
on-site technical assistance regarding the correct dosage rates and the best application points
regular checks to ensure the demulsifier remains effective
So whether you need to apply a demulsification process to light, medium, and heavy crude oils, we can steer you in the right direction.
Photos courtesy of Flickr 

Tags: Demulsifiers, Emulsions, Oil