How COVID-19 Is Expected To Change Cleaning And Disinfecting Forever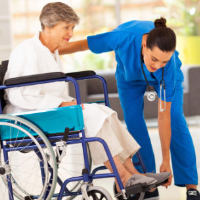 For healthcare services, the impact of the COVID19 crisis has been extreme. Where once established cleaning and disinfecting procedures were considered adequate, novel coronavirus has forced the need for more thorough disinfection and sanitation. For the sector as a whole, novel coronavirus has taken its toll. In late April, Canada's chief public health officer, Theresa Tam, published figures that showed more than
79% of all COVID19 deaths in Canada
were in long-term care and assisted living homes. In early May, the National Institute of Aging
increased that figure to 82%
, revealing almost 3,500 residents and 6 staff members of long-term care facilities had died of the virus. The threat posed by COVID19 has forced the sector to address their established protocols to enhance their routine cleaning and disinfection efforts – for dental clinics, laboratories and rehabilitation centres as well as for hospitals and nursing homes. But what does this mean for cleaning in the long-term future? Protocols have changed, but are they to be only temporary? And will disinfection become a key concern in a wider range of industry sectors?
Greater Thoroughness
Research has revealed novel coronavirus can survive for up to 72 hours on hard surfaces. Therefore, it is not enough to wipe down a surface once every few days; it must be disinfected daily. In hospitals and nursing homes, reports have already indicated that cleaning frequencies have been increased dramatically, but there is a difference between 'cleaned' and 'disinfected'. Cleaning is about removing dirt and grime, making a surface visibly clean. But this process does not kill germs – like bacteria or viruses. A disinfectant, however, does kill these germs, and as a result creates hygienically clean, safe surfaces. And because disinfecting should take place after cleaning to be effective, it means a more thorough cleaning procedure is necessary. According to
the CDC
in the US: "Cleaning of visibly dirty surfaces followed by disinfection is a best practice measure for prevention of COVID-19 and other viral respiratory illnesses in households and community settings.
---
---
Effective Disinfectants
A growing awareness of 'invisible' threats has led to a litany of products on the market. But one size does not fit all. Bleach, isopropyl alcohol and hydrogen peroxide are all considered 'likely to be effective' against novel coronavirus, and have been graded as so by Health Canada. But bleach is also considered a harsh cleanser, which is corrosive and brings with it the risk of toxic Chlorine fumes developing when used in enclosed areas. For this reason, popular industrial bleaches, which often come with a 12% bleach solution, can be problematic in healthcare institutions. A less noxious and corrosive option is an ammonia compound disinfectant, which is also recognised as 'likely to be effective' against the coronavirus. Here at Velocity Chemicals, our own
VELOSAN
is a quaternary ammonium compound which has a non-acidic formula that cleans, disinfects and deodorizes at the same time. Health Canada has published a
list of approved products
. If a product is not on the list, it has not been approved for this use.
Custom Chemical Formulation
While some products may not be suitable for specific reasons, a custom chemical formulation can help to ensure a balance, providing greater safety without compromised effectiveness. Dilution rates are also essential, with VELOSAN of between 64mls and 100mls per 900mls of water recommended for maximum effectiveness.
Greater Sanitization Awareness
This new awareness of viral risks is likely to see hand cleanser dispensers located at exit and entrances in offices, as well as canteens, restrooms and common rooms. It is also likely that employees will be required to use them before starting and during their work, as well as to disinfect work desks before leaving at the end of the day. Hand cleansers, like Velocity Chemicals' own
FORTRESS
, will help to dramatically lessen the risk of cross-contamination wherever staff are working.
Velocity Chemical FORTRESS
FORTRESS
liquid alcohol hand rub topical cleanser kills harmful and disease-causing germs on contact. It is used for personal hand hygiene to help cleanse hands when water and soap are not readily available. Made in Canada, FORTRESS is already a trusted name as it has been used by industrial and commercial establishments for years. It contains the recommended 60% alcohol to safely kill pathogens, ensuring personal hand hygiene at home, in break rooms, meeting rooms or over transaction counters. Available in 4 L jugs and 20 L pails, FORTRESS is available from our approved distributors and directly from Velocity Chemicals, with orders shipped to anywhere in Canada within 24 hours. For more information, call one of our experts Toll-Free on 1-888-963-9499.
Tags: Covid-19, Hospital, long-term Care Home, Nursing Homes