10 Things To Consider When Starting A Waterless Car Wash Business

With impact on the environment such a key concern for business today, it's not surprising that the waterless car wash has been embraced so readily. Owning a car wash that has such a low environmental impact offers very positive marketing and commercial advantages. But those factors alone cannot ensure success.
As with any business, excellent standards of service and after service need to be delivered if your customers are to be satisfied. And with a car wash in particular, your choice of cleaning products need to be able to deliver consistently the results they expect, leaving every vehicle spotless and gleaming with a clean, smooth sheen.
So what are the specific issues you should consider when starting a waterless car wash business? Well, we've put together just 10 of the biggest concerns which should put your new venture on pretty firm ground.
---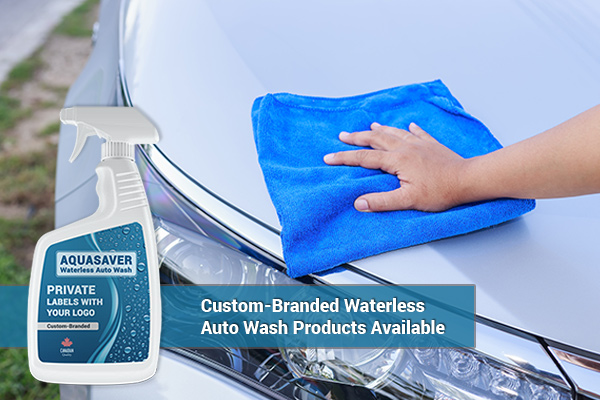 ---
10 Things To Consider
Get Your Staffing Right – Only hire people who share your vision of excellence and want to take care of the customers. Make sure they are trained fully to deliver a high-quality wash but also take care of them because happy personnel are more productive. Also, while a small staff of just 2 or 3 may make budgetary sense, on-site studies indicate that since efficiency is the key concern for customers, between 6 and 9 staff members is better in the long run.

Get Your Location Right – It stands to reason that your business needs to be close to your customer base to have the best chance of succeeding. With a waterless car wash, it's best to be near highly populated urban areas, and there are a few reasons why. Urban dwellers tend to earn more, so can afford professional car washing services. Convenience is a key preference amongst urban dwellers so a car wash is a popular option

The 'By Hand' Value – Automation has made jobs easier in many sectors, not least the popular automatic car wash. But the waterless car wash business has an advantage in offering something that the public generally perceives as being a higher quality – the cleaning is done 'by hand'. The waterless procedure offers added value in the form of greater attention and care, which can greatly strengthen customer relations.

Get The Product Right – If you use an inferior cleaning product, the end result will be inferior. Velocity Chemicals' AQUASAVER Spray-On Waterless Auto Wash is already a leading name with a growing market, not just because it delivers a high quality clean, polish and wax combination, but because it is highly cost-efficient. And because it is formulated and distributed in North America, shipment is fast and hassle-free.

Brand Big, Be Seen – An obvious point but worth repeating, it's important to make sure your premises is distinguishable against the other businesses in the area. Until your car wash is established, you need every trick to build up customers. Use large and clear logo graphics, catchy catch-phrases and a positive call to action. Make recognition of your brand instant and memorable.

Recognize Your VIPs – Every customer is important, but it's a good idea to create special VIP service lines for those willing to pay more for extra services. This might be a priority status, faster time or some other special features. Basically, make sure you deliver real value for money.

Offer Free Amenities – Even non-VIP customers deserve to feel well looked after. Some customers may wish to wait. Make sure they have free amenities, like Wi-Fi, coffee, and a comfortable waiting area.

Reward Loyalty – A Loyalty Card scheme could provide extra discounts on things like food and drink while waiting, or after a certain number of visits. It gives customers a target to achieve, but it's down to customers making savings that getting specific rewards for reaching set milestones.

Website Quality – Even for a waterless car wash business, a website is a major marketing asset, where you have a chance to promote your brand and build a customer base. Avoid being too fancy, but make sure contact numbers are clear and well positioned, and call to action buttons are highly visible. There are lots of stats that prove a website's worth, not least Google's research showing 50% of mobile users who searched for a local store visited it within a day, and Brightlocal's survey that revealed 88% of consumers trust online reviews. Read this article for more.

After Sales Experience – Make your customers want to come back. A waterless car wash that delivers more than just a clean car is going to enjoy a high customer retention rate. If you clean the interior too, and add some air-freshener, customers will get the fresh feeling they probably haven't had since buying the car new.
---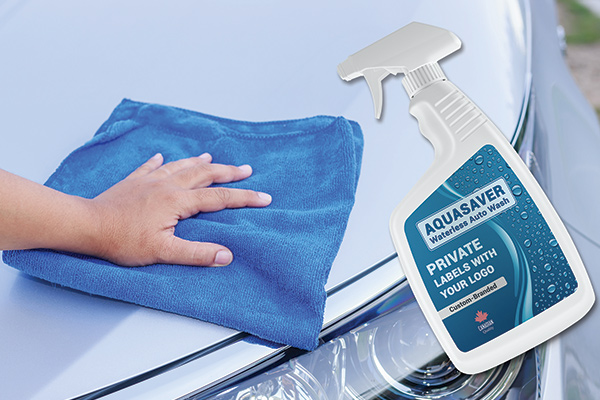 ---
AQUASAVER: Our Most Eco-Friendly Car Wash Yet
We 
introduced the AQUASAVER: Spray-On Waterless Auto Wash
to address the growing demand for an eco-friendly car care product. Fully bio-degradable, it is designed as a spray-on to maximize convenience. This easy-to-use cleaner does its job in just 15 minutes. Yet, it's still tough on the most troublesome every-day soils vehicles pick up, like dirt, grit and grease, and delivering a high-quality, non-streak finish every time – all without the need for water. And because AQUASAVER requires no scrubbing, and contains a silicone polymer wax, the finish is always smooth, glossy and scratch-free.
Change The Way You Clean Your Car
AQUASAVER
Spray-On Waterless Auto Wash product can be purchased at wholesale available in 4-litre jugs or 20-litre pails, or can be re-formulated and re-packaged with your own brand. Velocity Chemicals has shipped bulk car care products across North America and are searching for international importers to start, open and manage car care product companies from cleaning vehicles to selling the most eco-friendly auto wash product.
If you are interested in learning more about cleaning vehicles without water and its highly profitable opportunities, please fill out the "
Request A Product Sample
" form or contact our specialist at toll-free
1-888-963-9499
.