COVID-19: Why Cleaning and Disinfecting Are Key As Restaurants Re-Open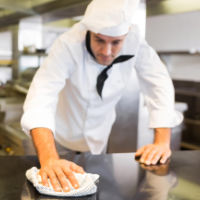 COVID-19 has had a severe impact on the food and beverage, and indeed catering industries. News that these sectors can begin to re-open is welcome, but it comes on the condition safe environments for workers and customers is provided. How can this be assured? The best way is a thorough cleaning and disinfecting practices. In recent weeks, a number of Canada's provinces have confirmed plans to re-open their respective economies, with British Columbia, Alberta and New Brunswick announcing bars, restaurants, cafes and fast-food outlets can begin to open their doors again.
Enhanced protocols must be adhered to first to protect against the spread of novel coronavirus, but also the much-feared  'second wave'. Germany eased its lockdown restrictions when the COVID19 transmission rate (R-Value) fell to 0.86; that rate has since jumped to 2.88. Similarly, some states in the US and Australia have seen numbers increase.
This highlights the vital need to maintain high cleaning and disinfecting standards if the spread of the coronavirus is to be stopped.
Reopening Best Practices
In their official COVID19 Reopening Best Practices guide, Restaurants Canada has highlighted the three key areas that members of the food and beverage industry must be concerned about, namely:
Physical Distancing
Cleaning and Sanitation
Health and Personal Hygiene
While all three are vital in the fight against the COVID19 pandemic, the role that cleaning, sanitation and hygiene play is significant as simply touching contaminated surfaces can result in the virus' spread.
Why Cleaning And Hygiene Is Key
Research has shown that novel coronavirus can survive on hard surfaces for long periods – 72 hours on plastic and stainless steel, and 24 hours on cardboard. And when these surfaces are in high-touch areas (door handles, handrails, table-tops, restroom surfaces), the possibility of cross-contamination is high.
Cleaning And Disinfecting
The protocol for reopening restaurants offers a variety of enhanced cleaning and disinfecting-related practices, including:
thoroughly cleaning the entire restaurant upon reopening
updating cleaning schedules to reflect increased cleaning for high touch areas
cleaning and sanitizing shared equipment, like credit card machines, after every use
cleaning and sanitizing reusable menus after each use
having a deep cleaning response plan in place in case an employee tests COVID19 positive
using Health Canada-approved disinfectants against COVID19. Check Drug Identification Numbers (DIN) against

the official list

.
---
---
VELOSAN Offers The Solution
VELOSAN is a concentrated quaternary ammonia-based compound that disinfects, sanitizes and cleans hard surfaces, providing both effectiveness against COVID19 and cost-efficiency for operators in the food and beverage industry and catering industry.
It is included on the Health Canada list of disinfectants (check DIN# 02280825).
Its patented formulation ensures maximum efficacy for specific needs.
VELOSAN cleans, sanitizes, disinfects and deodorizes.
Its all-in-one formula means it can replace multiple products.
Available in concentrated form in 4 Litre jugs, 20 Litre pails or drums, and 1,000 Litre totes to suit particular supply needs, especially with over-the-counter supplies so low.
Its concentrated formula makes 16 bottles per each litre, making it highly cost-effective
With 90% of ready-to-use cleaning products being water – stop paying for so much water and plastic packaging.
Personal Hygiene
While a regular cleaning and disinfecting frequency are essential in ensuring the surfaces in a restaurant, café or bar is kept as COVID19-free as possible, it is important that those working and dining in these venues contribute to health and safety standards.
Some of the personal hygiene practices that should be addressed for reopening include:
making hand sanitizers available for staff and customers
ensuring staff sanitize or wash their hands at least every 30 minutes
appointing a Health and Safety Point Person to ensure protocols are adhered to
introducing a pre-work screening 'health check'
How FORTRESS Helps Maximize Personal Hygiene
Already used and trusted in industrial and commercial sectors, FORTRESS is a liquid alcohol hand rub sanitizer that ensures the personal hygiene standards your restaurant or pub must meet are achieved. Made in Canada, it is a key boost in the fight against the spread of COVID19.
It is made over 60% alcohol to kill harmful and disease-causing germs on contact.
It provides greater surface area coverage and leaves less residue on hands compared to gel and foam.
Place in bottles in multiple strategic locations ensuring easy access for employees and customers.
It is ideal personal hand hygiene alone but doubles up when used with soap and water.
FORTRESS's patented formulation means maximum efficacy for individual needs.
It is available in 4 Litre jugs and 20 Litre pails to suit your supply needs.
It is included on the Health Canada list of disinfectants (check NPN# 80100716).
Both VELOSAN and FORTRESS are available from our approved distributors and directly from Velocity Chemicals, with orders shipped to anywhere in Canada within 24 hours. To order, call one of our specialists today at toll-free 1-888-963-9499.
Tags: Cleaning, Covid-19, Disinfecting, Restaurants