Passing Health Inspections: Your Cleaning Product Can Seal The Deal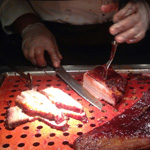 To most of us, a restaurant's cuisine and atmosphere are the main attractions that draw us in. But for restaurateurs, that is only part of the task they face. Health inspections are the bane of their lives, with very high standards insisted upon and very serious consequences if an impromptu inspection is failed.
Of course, anywhere that food is prepared, stored, handled or processed faces the same stringent inspections, all to ensure the risk of food contamination is kept to a minimum. The only way to ensure this is through regular and rigorous cleaning, which leave facilities, equipment, work tops and floors hygienically clean. At Velocity Chemicals, we know this can be difficult to achieve, regardless of whether your premises are big or small, or whether your business is a quaint local restaurant or a major food processing plant. Hygienically clean is not the same as visually clean, with unseen organisms (like bacteria) and substances (grease, oil, organic matter) in which they hide, often missed. So, the choice of chemical cleaning product has a real impact on the true cleanliness of surfaces, equipment and floors.
Most Common Health Inspection Fails
When the health inspector calls around to check things out, there is a long list to be inspected. That's partly why so many fail the inspection over what is often seen as minor violations. But what exactly are the most common fails for restaurants or food processing operations? Amongst the chief reasons are:
1. Food contact surfaces are not properly cleaned or adequately sanitized.
This is the most obvious fail in a health inspection. Food-contact surfaces (like knives, work tops and cooking equipment) may be soiled, and the chemical concentration, temperature, pH and hardness of water used to wash ware and utensils may be improperly set. Washing equipment might also be incorrectly calibrated to provide effective cleaning and sanitizing.
2. Equipment, utensils and surfaces are not adequately clean.
This stands for the non-food contact surfaces too, which may become a haven for harmful bacteria and accidentally come in contact with food. Their design is also significant, as is the way in which they are used by staff, but cleanliness and proper maintenance standards are essential.
3. Facilities poorly installed, maintained and not clean.
This is one of the most common violations for cafés and restaurants, but food processing facilities also often fail on this aspect. The wide-ranging aspect includes the interior and exterior of buildings, the storage of tools or utensils, and how waste and dirty water are disposed of.
4. Inadequate cleaning of surfaces that do not come into contact with food.
These surfaces include places like the bottoms of pots and pans, and floors. Frequent cleaning is needed to prevent the accumulation of soils that could inadvertently contaminate food.
5. Hand washing sinks are inadequate, poorly supplied and deemed inaccessible.
Sinks should be easy to get to, have clear signage, and always have soap or other hand-sanitizing products available. And since numerous studies have found that bacteria can thrive around sink edges, they must also be kept spotlessly clean.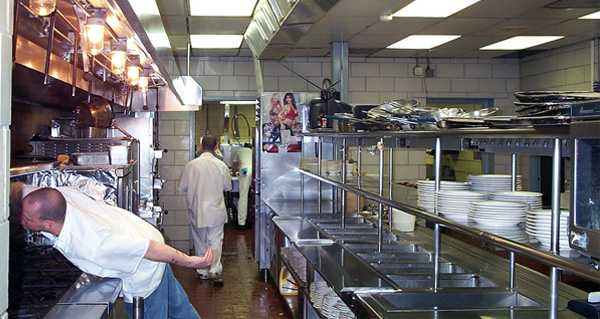 ---
Hygienically Clean With Velocity Chemicals
Of course, there are many things that a restaurateur, café owner or food processing plant manager needs to do to ensure the highest levels of food safety and handling practices, like properly labelling food and having the right protective clothing at hand. But there is no doubt that properly cleaning work surfaces and floors is the key to the overall exercise – and that is where Velocity Chemicals comes in. Through our selection of high-performance cleaning products, the cleaning process can be accomplished practically and cost-effectively. Our range of cleaning products that are suitable for use in the food processing and preparation sectors are CFIA-approved, so they are 100 percent safe. This range includes:
VELOSAN – specifically formulated to disinfect and clean hard surfaces in food processing and industrial areas. Its Quaternary ammonium compound makes it a highly effective one-step sanitizer for non-food contact surfaces, as well as for food contact surfaces where a rinse is not required. It is also an ideal disinfectant and cleaning product for use in hatcheries, poultry and swine premises.
FLOURIX – a medium-duty aluminium brightener, FLUORIX is CFIA-approved for use on food contact surfaces. Although popularly used by trucking companies, aluminium and plastic manufacturers, it is highly effective on greasy and oily surfaces, and restores aluminium surfaces to their cleanest state, leaving a satin finish.
CHLOROQLEEN – an alkaline caustic cleaner with chlorinated bleach, this product is commonly used in a variety of industries to clean automobile and locomotive exteriors, truck frames and blocks, and soiled engine parts. But it is also highly effective in the food and fish processing plants, where floors and other surfaces need to be cleansed of carbons, fats, proteins, and organic, greasy and oily soils. Similarly, TORNADO and UPSHOT, are highly effective options for the food processing industry.
For more information on health regulations affecting the food and food processing sectors, you can check out the
Canadian Food Inspection Agency
(CFIA), or talk to one of our team at
1-888-963-9499
, about the chemical cleaning product that best suits your needs.
Photos courtesy of Flickr 

Tags: Food Safe, Health Inspections