The Rise of the Waterless Car Wash And Why The World Is Embracing It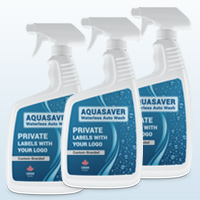 The traditional way of washing a vehicle is basically straight forward. Simply mix some detergent with water, apply it generously to lift dirt and grit then rinse it all away. But with water consumption now a hot environmental topic, being able to wash a car without using water is an obvious positive development. And the rise of the waterless car wash illustrates that fact.
Admittedly, the idea of 'dry cleaning' vehicles might seem a bit wild. But in the past decade, the development of detergents and cleaners that can be applied directly to a surface – coupled with these products' increasing levels of efficiency – has made the use of water to clean and rinse off quite redundant. It means that washing a car is now simpler, faster and more convenient than ever before.
But while it makes sense for a person to wash their car at home, waterless car wash businesses are being set up and enjoying considerable success – throughout the world.
Why The Waterless Car Wash Is So Popular
Across Canada and the US, waterless car wash services are being established in towns and major cities at a steady rate. With millions of vehicles on Northern American roads, that makes sense, but the growth of water-free car washing has been global, and there are several reasons why.
Environmental – In recent years, several studies have shown a shocking rate of water depletion. In June 2015, data from NASA's Gravity Recovery and Climate Experiment (GRACE) satellites revealed that as many as 13 of Earth's 37 largest aquifers had seen reserves significantly depleted between 2003 to 2013. And according to the North America Drought Monitor (NADM), much of western continental North America continues to experience severe drought, with California registering an exceptional drought rate. Water consumption is an important environmental issue, making waterless car wash options highly desirable amongst the green-aware population.
Accessibility – In countries as far afield as South Africa, South Korea, Lithuania, Morocco, Egypt, and Singapore, the waterless option is being embraced. These nations vary quite dramatically in terms of water availability. Egypt, for example, is just above the Sahara Desert and, according to the UN, may run out of water by 2025. But with water unnecessary, this particular difference becomes irrelevant and opens the car wash industry up to even arid regions.
Cost – A waterless car wash business is relatively simple to set up, with the capital investment required relatively low. This is because the outlay to buy major car wash equipment and to establish the on-site water system is not required. So, the waterless option is more viable than traditional car wash operations, making it a good business investment practically everywhere.
Efficiency – The cleaning products used in waterless car wash businesses require no diluting, with a microfiber towel used to apply the cleaner to car surfaces. These products are safe and biodegradable and leave a scratch-free finish. What is more, the procedure to properly clean a car can take as little as 15 minutes, so it takes no longer than the traditional option would.
---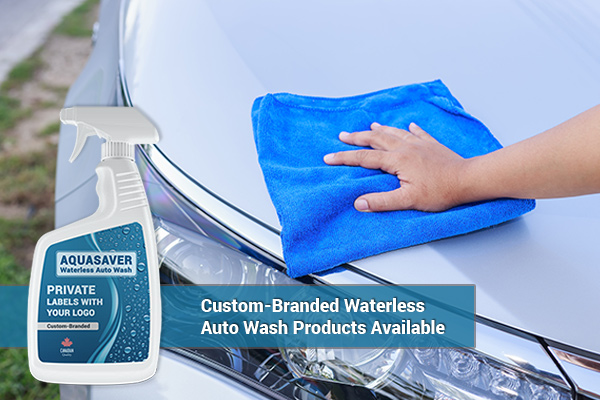 ---
AQUASAVER: Our Most Eco-Friendly Car Wash
In September, we responded to the public desire for responsible water use by
introducing the AQUASAVER: Spray-On Waterless Auto Wash
– a fast, easy-to-use and completely eco-friendly car care product. It's 100% biodegradable spray-on formula that can break down and remove light grease, dirt and road grime without water. Indoor or outdoor, the process involves simply spraying on, wiping off, drying and shining, leaving a high-quality, non-streak finish in just 15 minutes
AQUASAVER
embraces the dirt, lifting and capturing it so no serious scrubbing is needed, ensuring a scratch-free surface every time. And because the spray-on formula contains modified silicone polymer wax, that provides a protective layer for a smooth, glossy look.
Change The Way You Clean Your Car
AQUASAVER Spray-On Waterless Auto Wash can be purchased at wholesale available in 20 Litre Pails or 200 Litre Drums, or can be re-formulated and re-packaged with your own brand. Velocity Chemicals has shipped bulk car care products across North America and are searching for international importers to start, open and manage car care product companies from cleaning vehicles to selling the most eco-friendly auto wash product.
If you are interested in learning more about cleaning vehicles without water and its highly profitable opportunities, please fill out the "
Request A Product Sample
" form or contact our specialist at toll-free
1-888-963-9499
.