COVID19: Why Using The Right Disinfectant Against Coronavirus Is Vital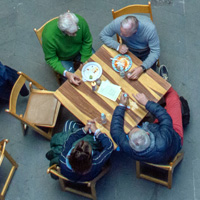 For any restaurant, diner or bar, one of the most significant concerns is cleanliness and hygiene. But in the midst of the COVID19 pandemic, disinfecting surfaces surfaces has become even more crucial. And while more vigorous cleaning may seem the best response, this can cause further problems. This past weekend, the number of Coronavirus cases jumped to 249 across Canada. Over half of those are in Ontario, where
39 new cases confirmed in Ottawa
brought the provincial total to 142. And while these numbers are small compared to
other nations
 (China 81,000; Italy 21,000; France 4,000, to name a few) the risk of contamination is now a constant. Disinfecting food contact surfaces is hugely important, but so too is disinfecting non-food contact surfaces, which can be contaminated with the Coronavirus by a wayward cough or touch, setting co-workers up as potential unwitting contaminators themselves. So, what are the issues that are more pressing in the current climate?
What To Use
Use Disinfectants Recognized For Effectiveness – Use disinfectants that are DIN registered as it shows they have been independently tested and proven effective against a range of pathogens. So, it can already deal with well-known food-related bacteria and viruses, like Salmonella, E-Coli, Listeria, Norovirus and Hepatitis A.
Likely Effectiveness Against COVID19 – Only use products that have been authorized by Health Canada as 'likely to be effective' against COVID19. This authorization was introduced to prevent spurious claims by manufacturers and suppliers, and means that the product is officially recognized as likely to make a difference in preventing the spread of the virus. Our own VELOSAN is officially authorized.
Fast And Simple To Use – Being able to prepare and apply the disinfectant without delay is important, as is the need for fast action. Of course, the effectiveness may come down to the dilution rate that is applied, which in turn depends on instructions. VELOSAN is an effective disinfectant or sanitizer, depending on the dilution rate you apply, with a 10 minutes contact time. Rinsing is advised on contact surfaces for both food (kitchen counter, tables, worktops) and skin (door handles), though for non-contact surfaces (walls, floors) the spray can be allowed to dry.
---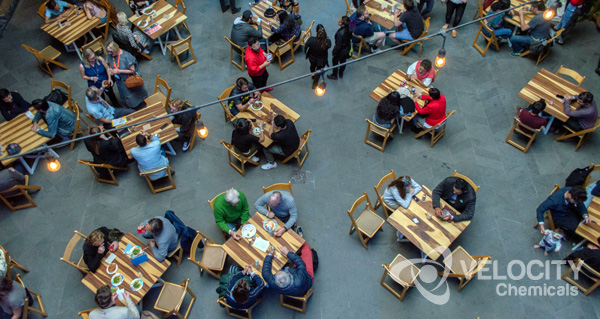 ---
Operational Benefits
Surface Maintenance – With many believing that tougher industrial products, with as much as a 12% bleach solution, is the answer, overcleaning can cause damage to equipment surfaces. But ammonia-based products are much less corrosive, so increasing cleaning frequency has no negative impact. As a concentrated quaternary ammonia compound, VELOSAN can be used as a sanitizer or disinfectant depending on the dilution rate used.
Think Safety – When industrial bleach products are being used, some health concerns come to the fore. Industrial bleach can generate toxic Chlorine fumes in poorly ventilated areas, which are dangerous to inhale. Bleach alternatives are less corrosive, less hazardorous and do not threaten staff health.
Cost Efficiency – Some might be tempted to use larger amounts of cleaning products in the expectation the process will be more thorough. This can challenge cost efficiency in your operation. With highly concentrated disinfectants, efficiency is not so stretched, even if the dilution rate is increased. With VELOSAN, the recommended dilution rate is between 64mls and 100mls per 900mls of water, to ensure maximum effectiveness.
Food Preparation Surface Cleaners From Velocity Chemicals
Velocity Chemicals is already a trusted name in the formulation and manufacturing of chemical cleaners and disinfectants usable in the hospitality, restaurant and food processing industries. Our range of products is specifically designed to deliver results without impacting negatively on the quality of food being prepared or produced. One of our most versatile products is VELOSAN.
VELOSAN – uses a quaternary ammonium compound to not only clean but disinfect and sanitize hard surfaces in food preparation, food processing and industrial areas. CFIA approved, it's an effective one-step sanitizer for non-food contact surfaces and food contact surfaces. Rinsing is required on food contact surfaces, but can be left in place to dry on non-food contact surfaces for residual bacterial activity.
It's a non-acid disinfectant with no phosphates that cleans, disinfects, and deodorizes at the same time. It is recommended for use in food processing facilities, including hatcheries, poultry and swine premises, to disinfect equipment or heavy-duty vehicles, and other hard surfaces. It is also suited to large kitchens and food preparation facilities in the hospitality, restaurant and bar premises.
VELOSAN also has a federally recognized Canadian Drug Identification Number (DIN), and has been authorized as a 'likely to be effective' against COVID19.
To learn more about how our range of products can improve your operation's efficiency, or just to ascertain which Velocity Chemicals cleaning product best suits your needs, why not talk to one of our team at 1-888-963-9499.
Tags: Coronavirus, COVID19, Disinfecting, pandemic